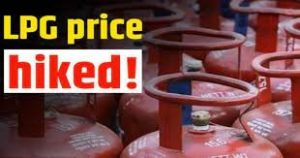 Goemkarponn desk
PANAJI: Petroleum and oil marketing companies raised the price of commercial liquid petroleum gas (LPG) cylinders by ₹ 350.50 per unit and domestic LPG cylinders by ₹ 50 per unit with immediate effect from Wednesday.
According to the revised rates, commercial LPG cylinders will now cost ₹ 2,118 per unit in Goa, and the price of domestic LPG cylinders will be ₹ 1,117 per unit. This is the second hike in commercial LPG cylinder prices this year.
Earlier, on January 1, commercial LPG cylinder prices were increased by ₹ 25 per unit.
In the first hike in domestic liquefied petroleum gas (LPG) cylinder price since July 2022, oil marketing companies (OMCs) have raised it by Rs 50 per 14.2-kg cylinder, as per information provided by Indian Oil Corporation (IOC).
With this price increase from March 1, a 14.2-kg domestic LPG cylinder has been priced at Rs 1,103 in Delhi, Rs 1,102.50 in Mumbai, Rs 1,129 in Kolkata, and Rs 1,118.50 in Chennai.
The last price revision for domestic LPG was on July 6, 2022. Global crude oil and fuel prices skyrocketed after Russia invaded Ukraine.
This had forced the public sector OMCs—IOC, Bharat Petroleum Corporation, and Hindustan Petroleum Corporation—to halt regular revisions in prices of fuels like petrol, diesel, and LPG used by households in a bid to shield consumers from extreme fuel price volatility, which has now subsided to a large extent.
OMCs suffered heavy losses on the sale of these fuels as they were selling below global prices. In October, the Centre gave a one-time special grant of Rs 22,000 crore to the three companies to compensate them for their losses on domestic LPG sales.
Comment