16B cases, ODPs under Rane's scanner
TCP board to review final/provisional zone change approvals granted under 16B: TCP Min Vishwajit Rane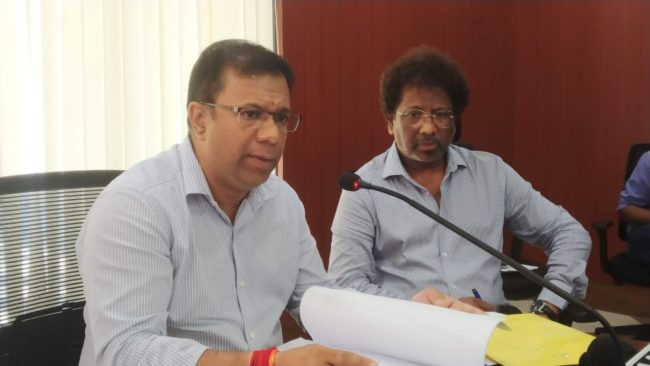 Goemkarponn desk
PANAJI: In a major decision, the Town and Country Planning (TCP) Board has decided to review close to 1700 zone change approvals-both final and provisional, granted under Section 16B of the TCP Act, since 2018.
Rane has also said that the Outline Development Plans may be suspended.
The decision was taken during the first Board meeting chaired by the new Minister Vishwajit Rane.
The TCP Act was amended in 2018 to add Section 16B, and it became a huge source of controversy and came to be challenged in the Bombay High Court at Goa.
NGO Goa Foundation and Goa Bachao Abhiyan had, in November 2018, moved High Court with a Public Interest Litigation(PIL) for quashing and setting aside provisions of law (Sec 16B of the Goa Town and Country Planning Act and proviso to Regulation 6.1.1(d) of the Goa Land Development and Building Construction Regulations, 2010) that seek to allow ad-hoc and arbitrary conversions of privately owned plots in the Regional Plan based on individual applications from such Zone changes.
Addressing a press conference post-meeting, Rane said that a committee under Chief Town Planner James Mathew will be constituted to review the 16B zone change cases.
The committee will have to submit its report within 45 days for necessary action.
Over 1400 provisional approvals and 250 final approvals were granted for zone change under 16B since its introduction in 2018. Following HC intervention, the Government, since January 2020, has not granted any final approvals.
Rane said that the matter is currently subjudice; however, new cases under 16B will continue to be heard.
"We will reject all those cases where we come across major discrepancies or violations of TCP Act," he said.
On the ODPs, he said he will take the TCP board meeting soon and go through cases on draft ODP plans and take decisions.
Comment