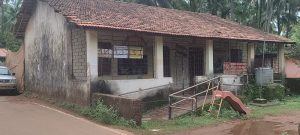 Goemkarponn desk
CANACONA: While many government owned Primary schools were closed on the pretext of low enrollments, a few of the privately owned (now fully Aided by some elite Education Societies) Primary and High-Schools have flourished either in the same buildings or same areas where these very same government schools used to run for the students.
Interestingly, while these schools were closed due to unavailability of students, the privately owned turned Aided schools are reportedly overflowing with enrollments.
In fact, while at least three (3) privately owned primary schools and one high-school (in place of closed Govt Middle School) were opened and running in full-steam in the same premises, where earlier enrollments dropped miserably forcing closer of government run institutions, a total of 8 primary schools (6-aided, 2-unaided) and 4 high-schools (3-aided, 1 unaided) have come up since these 27 government schools were closed-down.
The interesting part is all these newly opened private institutions flourishes with good enrollments, almost in all the corners of the taluka.
After its closure, Govt Medium School (GMS) at Kazumoll-Khola is taken over by Gurukul Education Society run by Krishna Velip (ex-ZP –Khola), now upgraded to a High-School.
A Primary School by Saraswati Vidhya Mandir is established in place of the closed GMS- Khalwade, while in-place of GMS- Amone, a Government Primary School (GPS) is run in the building.
Atleast 3 other GMS's are closed, while the only two Government Schools running at Palolem and Patnem has a poor enrolments of just Nine(9) and Eleven (11), respectively.
These school teachers blames the other schools, located even in distant rural places who sends/provides bus (Balrath) transportation services to pick and drop children to their schools residing around their school premises.
The four high schools that are opened in during this period are Balram Residential High School- Amone, St. Francis Xavier High School(upgraded from Primary)- Bhatpal, Gurukul High School (upgraded from Middle School)-Kazumoll (Khola) and Balram –A Day Care School-Shristhal.
Except for St. Francis Xavier High School, all the three other High-Schools are provided with government Aid and are classified in Aided Schools category.
The primary schools opened in Canacona are St. Francis Xavier PS (2008)-Bhatpal, Balram P S (2010)- Talem, Shradhanand (2012)- Poinguinim, Saraswati Vidya (2013)- Khalwade, Saraswati V (2013)-Karashirmoll (Agonda) , Balram Primary School(2013)-Avem, Shradhanand (2013)- Galgibaga, Gurukul (Kazumoll-Khola-2013), Damodar Balmandir (2015), Nirakar PS (2013)- Dapot, Nirakar PS (2013) –Tudal, ,
Besides, according to sources, while most of the 75 odd of the government primary Schools(GPS/GMS) were run in Marathi medium, only half a dozen of these were in Konkani medium, presently leaving only just two Government Primary Schools at in Dapot (Lolien-Polem) and Tudal(Gaondongrim) in Konkani medium for the academic year 2023-24. According to ADEI sources, the third Konkani medium Primary School at Damodar, Loliem has also switched-over to Marathi medium (2023-24) in this academic year.
Some of the other closed Government primary Schools numbering about 21 government buildings are either allotted and occupied by Director of Health Services, while others are idle with some in delipidated conditions.
The closed GPS Galgibaga (2 rooms are allotted for Shradhanand Primary, while an Anganwadi is run in 2 remaining Rooms), The GMS Khalwade (renovated by Shiksha & Gram Vikas Kendra Running private Primary school), GPS Talem (allotted to Balram Primary School), GPS Chiplem (Alloted to DHS), GPS Agas (Anganwadi runs in 1 room, while the other room is allotted to DHS). GPS Borus (allotted to DHS), GPS Gal-Neturlim(the building is in Delipidated condition), GPS Shisheval (allotted to DHS), GPS Delem (allotted to DHS), GPS Tamnem (allotted to DHS), GPS Kindlem(allotted to DHS), GPS Nagarcem, (The old building is demolished, and a 2-storeyed Shelter Home is constructed), GPS Tudal (allotted to DHS), GPS Galiem(1 room is allotted to village Anganwadi and 1 Room to DHS), GPS Shelim (is allotted to Project Director -Environment Directorate), GPS Tansi(to DHS), GPS Loliem(Building though in condition is presently Vacant/idle), GPS Mudkud (Vacant), GPS Agonda(Vacant), GPS Pedem (Vacant), GPS Nadkem (Vacant).
The GPS's closed this academic year GPS Dhawalkhazan (Agonda,) GPS Idhar(Loliem), GPS Muthal (Sadolxem-Poinguinim) and GPS Molorem(Khola) are also presently idle. However, these building are known to be literarily used as Polling booths during elections.
Comment