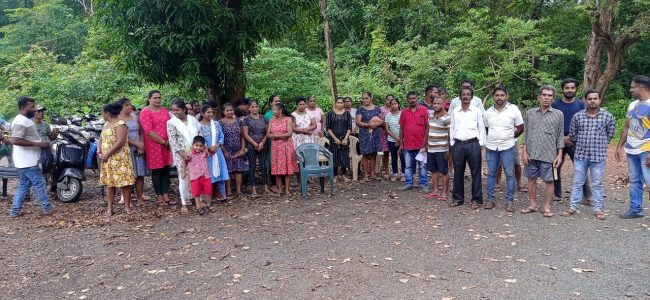 Goemkarponn desk
CANACONA – Protesting against the consequent reservation of their ward for one community continuously for the three terms, a section of voters of Ward no.1 of Poinguinim threatened to boycott the 10th August panchayat polls and future elections toll their pleas were heeded upon.
The ward no.1 of VP Poinguinim consists of 616 voters, out of which 379 voters pertain to other communities are residents of Khalshi, Chiplem, Tirvonn, Badegal and Kharegal, together with 239 voters belonging to the ST community and residents of Marlim-Tirval areas makes up for Marlim -Tirval Polling Station.
In a memorandum addressed to the Chief Electoral Officer, Goa State Election Commission, the voters of Khalshi, Chiplem, Tirvonn, Badegal, and Kharegal Hamlets have served a notice to boycott upcoming panchayat elections.
"That for last three consecutive tenures/terms of village panchayat elections, our ward no.1 is continuously reserved for ST community," says the memorandum copies of which are also submitted to the Chief Minister, Collector (South), Canacona Dy Collector, Canacona Mamlatdar and Returning Officer.
The memorandum mentions that the five residential hamlets of Khalshi, Tirvonn, Badegal, Kharegal and Chiplem have 379 voters all belonging to other categories, while voters residing in Marlim and Tirval, which is also part of Ward no.1, have 239 voters belonging to ST community.
"Though the majority of voters in our ward belongs to other categories, last three consecutive tenures/terms including present term, our ward is reserved to ST Community," they stated.
"That we, the residents of the above areas, believe that great injustice has been caused to us by said reservation for the last three terms of panchayat elections as the majority of the voters fall under another category. We are intentionally denied our right to contest elections falling under other categories," he said.
The residents also complained of the location of Polling Station 10 km away from their localities at Marlim GPS.' "To reach polling booth, we have to compulsory travel by vehicles, to cast our votes which is again causing us lots of inconveniences", informed one Sachin Naik, who, along with several others, assembled to jointly voice their concern.
"The reservation of candidate is being purposely made with ill intention to do caste politics in our ward with political force", states the memorandum.
"As a protest against the injustices to the people of Chiplem, Kharegal, Badegal, Khalshi and Tirvon, and as a last option, we have mutually decided to boycott the village panchayat elections 2022, so also for future elections, in case our grievance is not heard on priority basis, an echo written in a memorandum (signed by most of the residents of protesting areas) is also repeated by several gathered residents," they stated.
Another voter Surendra Gosavi said, "This is not only unfair and unjust but also denies our constitutional right to contest panchayat elections."
It may be recalled that about 221 voters/residents of Marlim -Tirval where the polling Booth is located at Marlem, have boycotted the last Parliamentary Elections and refused to vote en-masse, alleging governments indifference attitude to provide them with basic facilities such as Road, Electricity and Water-supply.
Poinguinim ward no.1 was reserved for ST in 2012 (elected Ramdas Pujari), ST-2017 (Jagdish Gaonkar- outgoing Sarpanch of Poinguinim), and again double reserved for ST-Woman in 2022, where three women contestants are in the fray -Jotika Jagdish Gaonkar (wife of Ex-sarpanch), Rasika Shantaram Velip and Ruthika Rupesk Gaonkar.
Comment