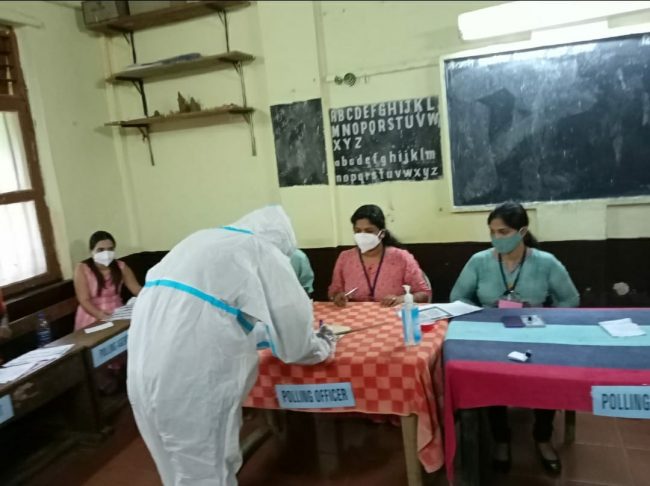 Goemkarponn desk
CANACONA – A COVID-19-infected patient is amongst the 22568 voters of Canacona to cast their votes to elect 56 Panch members from 7 different village panchayats of Canacona on Wednesday.
The voting pattern in Canacona, which began on a very promising note, for the first 2 hours, however, slowed, recording a meager 48.80% by 12 noon, was picked again after lunchtime, as recorded 77.53% by 4 pm, before finally closing at 22568 out of eligible 27244 cast their votes at 82.84% to elect 56 panch members from amongst 169 candidates in 7 village panchayats of Canacona.
Three panch members are already elected unopposed, one each at Poinguinim, Gaondongrim and Shrishthal.
While a few of the divyang voters were either helped physically or were carried on wheelchairs to enter the polling booths all over the taluka's panchayats, a COVID-19 patient covered in full PPE Kits came to vote at ward no.2 of Agonda panchayat during the last hour of polling exercise. Incidentally, after being alerted of arrival of a Covid positive elector to vote, all the polling staff swiftly put on their face masks, brought the sanitiser handy and felicitated the voter to cast his vote.
Interestingly, a large number of voters have turned up to cast their votes at the Marlim-Tirval booth, where about 377 voters of Poinguinim ward no.1 have initially decided to boycott panchayat polls. Canacona Mamlatdar/Returning Officer Manoj Korgaonkar, along with Dy Collector Ramesh Gaonkar, had finally convinced the ward one voters hailing from Chiplem, Tirvonn, Badegal, Khalshi and Kharegal.
They not only agreed to vote but also turned up at the polling station on Wednesday.
Incidentally, long queues were witnessed only during the first two hours in many of the booths having over 500 voters, while overall, it was a smooth walk-in in the rest of the polling booths to cast their votes.
A total of 742 voters cast their votes at Agonda ward no.7, having a maximum of 980 voters amongst all the seven panchayats of Canacona taluka @75.71%.
Gaondongrim and Khotigao, with a net percentage of 90.85% and 92.45%, respectively, are top amongst the 7 Panchayats (Khola-87.42%, Agonda -80.31%, Shrishthal -85.12%, Loliem-Polem -74.52% and Poinguinim -76.56%), while Loliem-Polem panchayat with 74.52% voters is the least of all panchayats where voters cast their votes. The highest booth-wise percentage of 95.44% at Ward no.2 (Edda) of Khotigao, where 314 out of 329 eligible voters came to the Polling booth and cast their votes, while only 66.51% of voters of ward no.2 (Maxem) of Loliem-Polem 290 out of eligible 436 reached at a polling booth on Wednesday.
Incidentally, several people, including candidates, complained of non- panchayat voters frequenting the polling stations, particularly at Loliem-Polem, Shrishthal, Agonda and Poinguinim, amidst concerns that some came to distribute cash to influence electors to vote for particular candidates.
Canacona PI Chandrakant Gawas confirmed the polls were overall peaceful, and no untoward incident was reported from any of the 56 booths that went to polls on Wednesday.
Comment