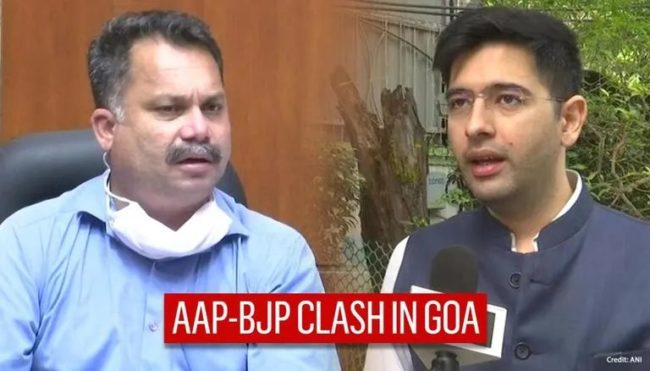 Goemkarponn Desk
DELHI: Aam Aadmi Party (AAP) National Leader Raghav Chadda, for the second time, has accepted Power Minister Nilesh Cabral's challenge for a debate on Delhi's Power Model.
"Nilesh bab, I am happy to note that you have expressed your desire to debate with the Delhi Govt. I, once again, accept your challenge," said Chadda on his social media handle.
He further said that he hopes that you (Cabral) will not back out like last time.
"Please confirm the date, time, venue, and I'll be there. Goans want to see a debate on governance," he added.
Power Minister Nilesh Cabral had said that he was ready for a debate on power if Delhi Chief Minister Arvind Kejriwal is in Goa.
"I am ready for a debate with Delhi Chief Minister Arvind Kejriwal if he is in Goa; The power scheme announced by him in Goa is only for Delhi people who have their second homes in Goa. This scheme is not feasible in the state," Cabral had said.
The ruling BJP and a resurgent AAP have been engaging in a war of words for the last few days over the Delhi power tariff model, which Delhi AAP CM Arvind Kejriwal promised to emulate in Goa if the party wins the 2022 state assembly polls.
Chadda, who was in Goa earlier and Goa Power Minister Nilesh Cabral were also involved in a verbal feud after the former accepted Cabral's challenge for a public debate on the power tariff in both states.
Comment