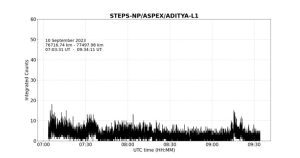 Goemkarponn Desk
PANAJI: ISRO today has said that Aditya-L1 has commenced collecting scientific data and that the sensors of the STEPS instrument have begun measuring supra-thermal and energetic ions and electrons at distances greater than 50,000 km from Earth.
"This data helps scientists analyze the behaviour of particles surrounding Earth. The figure displays variations in the energetic particle environment, collected by one of the units," said ISRO
The Aditya-L1 mission, launched on September 2, aims to study the Sun's photosphere, chromosphere, and corona. It will also investigate the dynamics of space weather and the propagation of particles and fields.
The spacecraft has successfully completed four Earth-bound maneuvers, with the TL1I marking the start of its journey towards the L1 point.
The L1 point offers an uninterrupted view of the Sun, making it an ideal location for observing solar activities and their impact on space weather.
Once Aditya-L1 reaches this point, it will enter a halo orbit and remain there for the duration of its mission. This strategic positioning ensures continuous observation of the Sun, free from any occultation or eclipses.
The Aditya-L1 mission is a significant step forward in India's space exploration endeavors. It not only marks the country's first space-based solar observatory but also promises to provide critical data that will enhance our understanding of the Sun and its impact on space weather.
As the spacecraft prepares for its send-off from Earth, the scientific community eagerly awaits the valuable insights it will bring back
The manoeuvres are being performed during the spacecraft's 16-day journey around the Earth during which the spacecraft will gain the necessary velocity for its further journey to L1.
With the completion of four earth-bound orbital manoeuvres, Aditya-L1 will next undergo a Trans-Lagrangian1 insertion manoeuvre, marking the beginning of its nearly 110-day trajectory to the destination around the L1 Lagrange point.
Comment