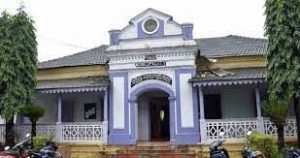 Goemkareponn desk
PONDA:
After Sakhalim locals filed a petition in Court over ward delimitations, the Ponda locals warned the DMA and State Election Commission that if mistakes in ward delimitations are not rectified, they will approach High Court.
Some citizens suspected political interference in ward delimitations.
Ponda Municipal Council Councillors say several things could be improved in the ward delimitation process and demanded proper rectification. The ward councillors said they had given suggestions and objections to ARO, but except for minor ones, the major objections are not considered while conducting ward delimitation.
Councilor Venkatesh Naik said the geographical map of the ward and its voter's list do not match, and this happened to every ward.
He said voters' houses are geographically in one ward, but the voter's list shifted them to another ward. This happened in the case of every ward. In such a situation, it would be difficult for councillors to develop their ward as voters may reside in another ward.
He said there was no need to shift voters from one ward to another as the number of wards is kept as it is at 15 nos by EC.
"If voters increase, they can be adjusted in other wards during delimitation. Delimitation was only essential for increased voters, but unnecessarily ward delimitations are done in every ward, causing chaos," he said.
He said similarly that the ward reservations for ladies generally differ from the rules and need rectification.
He said wards 6 and 7 were kept twice for general, and this time it was expected to be reserved for ladies, but it did not happen.
Councillor Pradeep Naik said his ward no 8 was earlier reserved for ladies in 2013, and in 2018 it was OBC, and now again, it is reserved for ladies reserve, which needs to be corrected. This time it was again expected to be reserved for the general category, but that has not happened.
Comment