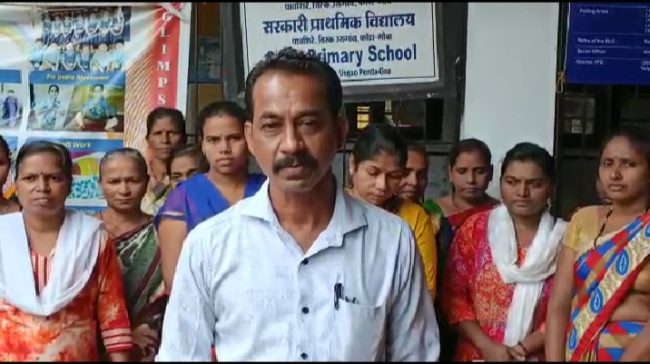 Goemkarponn desk
PONDA: Following warning giving 15 days deadline to boycott classes Usgao Dhavshirem school get teacher today.
Usgao Dhavashirem government primary School Parents/students today had gathered to boycott classes in protest against the shortage of one teacher. However, they got a pleasant surprise as they got the fourth teacher today at noon.
Ulhas Satarkar, PTA Chairman, said earlier that Parents had made several memoranda demanding four teachers, but we're fallen on deaf ears. Finally, they warned the ADEI giving fifteen days deadline to appoint one additional teacher or else protest.
He said for 97 Students, only three teachers were insufficient and causing educational loss to students. So Parents were demanding an additional teacher.
He said first to the fourth standard, there are 100 students and four classes. Earlier there were earlier four teachers. But after the transfer of one teacher, only three teachers are teachings which parents say is insufficient for four categories.
It was an injustice and a loss to students, and therefore Parents demanded at least one more teacher, i.e. a total of Four teachers for this school. The parents had stressed the need for additional teachers. As the department failed to provide teachers, they approached the media warning of a boycott of classes.
Parents also demanded that these school classes should be started in the morning session as the evening session causes hardship to parents and stakeholders.
Parents said since no teacher was ready to teach in the evening session, the parents even arranged one spacious place to arrange classes in the morning session however ADEI failed to arrange budgetary provision to hire the place and pay its rent. Parents earlier even met CM Pramod Sawant and informed him that the students are suffering as classes are held in the evening time.
It may be recalled that In 2019 also, Dhavshirem School was facing the problem of shortage of teachers. At that time, there were 103 students and just two teachers; however, as parents launched an agitation, two additional teachers were appointed.
Comment