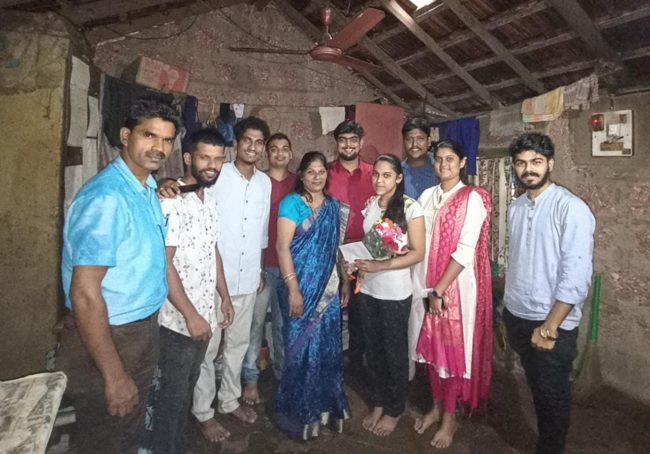 Goemkarponn desk
PERNEM: No matter how difficult the situation is, some people do not give up. People who face adversity and stand on their own two feet become role models for others.
This is once again evident from the success of Namrata Salgaonkar.
"Her success in a tough situation is truly an example for others," said her teacher Madhavi Gawandi.
Namrata Ashok Salgaonkar, a Parsem High School student, Parsem, set an example by scoring 96% marks in the Class X examination.
She was felicitated by Navchetana Yuvak Sangh Pedne and Phule-Shahu-Ambedkar Pratishthan Goa for her achievement.
She was also given financial assistance for her further education. She will be provided free English training on behalf of the institute under the 'Language Nest' initiative to not face any difficulty in English subject while pursuing her further education.
Teacher Madhavi Gawandi, President of Phule Shahu Ambedkar Pratishthan Mahadev Gawandi, President of Navchetana Yuvak Sangh Krishna Palayekar, Secretary Omkar Govekar, Gauresh Pednekar, Pooja Naroji, Rishikesh Satardekar, Sahil Sawant, Laxman Tulaskar, Parsekar etc. were present on this occasion.
Success in overcoming adversity
Namrata has achieved this unprecedented success under extremely adverse conditions. She comes from an extremely poor background and has not taken any tuitions. She has achieved this only with the guidance of Parse High School teachers.
Namrata lives in a small house with her mother and grandmother.
Her father is not alive, while her mother works hard to run her household. Her mother was determined to teach her children despite the poverty at home. She believes that the situation can be overcome with a positive attitude.
"The headmaster and other teachers helped her a lot in any difficulties," Namrata Salgaonkar said, adding that this honour is very important for her and she will work hard in her life to make her parents' name bright.
Free English training by Language Nest
"With the help of Navchetana Yuvak Sangh Pedne and Girish Haldankar's 'Language Nest', Namrata Salgaonkar has been given free English language training by the organization so that she does not face any difficulty in English subject for further education and also becomes proficient in speaking and reading English," Krishna Palayekar, president of Navchetana Yuvak Sangha, said.
Comment