Ponda locals complain of frequent power failures in scorching heat due to tree-falling
Officials at Curti power substation say the falling of age-old trees on power lines at roadside and forested areas creates a hurdle in a continuous supply of power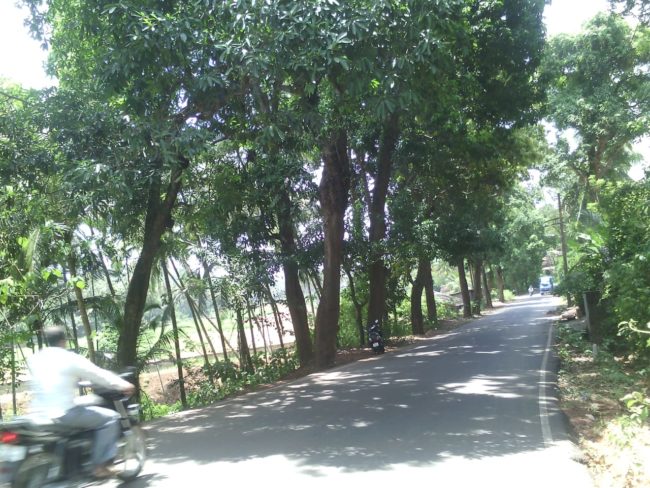 Goemkarponn desk
PONDA: As the summer begins, so do the troubles for Pondaitees begin.
For the past week, locals of Ponda have been suffering due to frequent major power interruptions, especially during nighttime in this scorching heat. The locals have demanded improvement in power supply as it is difficult to spend the night without fans and AC.
The locals in various parts of taluka, including Kavlem, Khadpaband, Bandora, Bethora, Shiroda, Borim and Ponda City, have witnessed major power breakdown once or twice in the past week.
Vishal Fadte and Viraj Sapre in Ponda City said it is difficult to bear scorching heat after a power shutdown.
"There is no underground cabling at Ponda. All power lines are based on overhead electric lines and poles. Even minor wind sometimes leads to tree felling on lines causing the power failure. The department should make all efforts to provide alternative power supply from different feeders in case of emergency in any area," he said.
Kavlem locals complained that besides frequent power interruption, they witnessed power breakdown for the entire night for two days last week after lightning and rain besides stormy wind.
The Borim and Shiroda villagers have similar complaints. Shiroda witnessed a major power breakdown on Sunday night, similar to Borim village.
In parts of Ponda City and Taluka also, there are complaints of frequent power interruptions.
Since monsoon is around the corner, the locals want the Electricity Department to change essential repairs works at transformers, cut trees leaned on electric wires, and replace weak power lines that snap even during gusty wind before monsoon.
Meanwhile, when contacted, the Officials at Curti Power Sub-Station said all efforts are being taken for continuous power supply, including pre-monsoon repairs works; however, in case of natural calamity or stormy and cyclonic winds, the trees fall on electric lines in forested as well as a residential area and at the roadside which leads to power failures.
He cited recent cyclonic wind at Shiroda, where several electrical poles and wires were snapped, and restoration work continued for almost two days.
Paunwada Kavlem locals faced power breakdown at night for the third time due to dry tree falling.
Comment