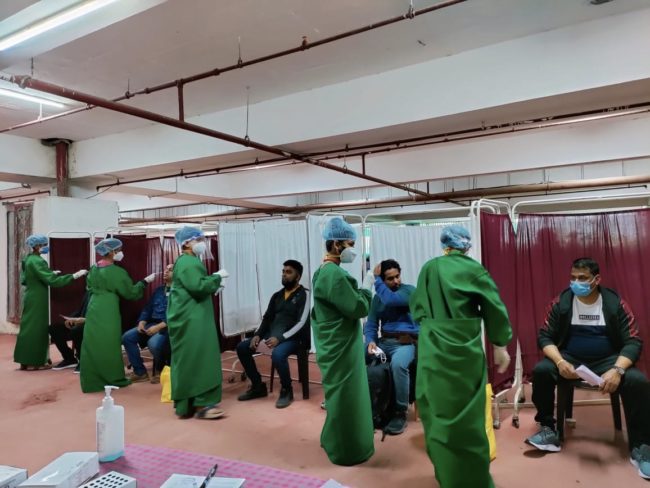 Goemkarponn desk
PANAJI: With elections slated for exactly a month from today, Goa is staring at another peak of COVID19, considering that the rallies and meeting would start as campaigning hots up.
On Thursday,
Covid positivity rate hit whooping 39.41 % today, with 3728 of the 9459 samples testing positive for covid.
With 971 recoveries active covid count of the State has reached 16,887.
Incidentally, total covid cases in Goa since the outbreak of the pandemic in March 2020 has crossed the 2 lakh mark and stand at 1,00,824.
The President of the Goa Association of Resident Doctors (GARD), Dr Pratik Sawant, said that around 28 doctors at Goa Medical College (GMC) have tested COVID positive.
He added that the doctors will also be posted at the GMC's Super Speciality Block and that they have been working for the last three years continuously without any COVID incentive or a fee waiver.
Sources at GMC added that other doctors and medical staff have symptoms and are undergoing further tests.
Chief Minister Dr Pramod Sawant says that hospitalisation is very low though the positivity rate increases.
"Less than one per cent of the patients require hospitalisation. Recovery rate is also 91-92 per cent so far," Sawant said.
He said that precautions and vaccination is the way forward.
"Closing the economic activity will not help in anyways," said the CM.
Sawant says whatever restrictions have been imposed by State have to be followed by the people of Goa.
"I open places there should not be more than 100 people and closed placed places not less than 50 people be allowed. I urge all political parties not to take huge meetings and follow COVID-appropriate norms," he said.
Health Minister Vishwajit Rane said that the cases are fewer than in European countries.
"We have seen how the occupancy of beds is much less than during Second Wave. Complications are much less, oxygen usage is much less as a result people are doing home isolation," he said.
He said that the State has already taken steps in case of any emergency.
"We have nominated the Super Speciality hospital as the COVID19 hospital and in old blocks is also used for COVID. People need not panic," he said.
Rane also said there is no need for further restrictions as the hotel occupancy is less and the number of flights passengers is less.
"We have to follow norms; EC has taken steps. I don't things any restrictions are required," he stated.
Comment