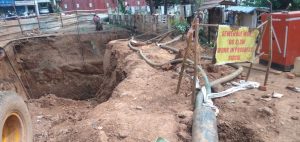 * 19-year-old died of electrocution at the Sewerage Chamber site
* Pondaitees express concern over unsafe STP work progressing in Ponda. Pondaitees says this is the second death at the sewerage work site.
Goemkarponn desk
PONDA: In yet another accidental death related to ongoing work for Ponda Sewerage Treatment Plant (STP), a 19-year-old passerby died of electrocution in an incident reported near Ponda Municipal Garden, where work on the sewerage chamber is progressing.
Locals alleged negligence while conducting sewerage work
According to Police, 19-year-old Alamgir Rahman, a native of West Bengal and presently residing in Bandora, had gone with one sewerage worker to watch the sewerage work progressing near the Municipal garden but sadly, he came in contact with live wires used at the site for sewerage work.
Following this, he was admitted to Ponda Sub District Hospital, where he was declared brought dead by doctors.
It may be noted in earlier May this year, one worker died due to drowning in an 8-meter deep sewerage chamber due to suffocation while another worker was admitted to the hospital.
In that case, police had registered an offence against sewerage Contractors and officials at that time for negligence.
One accident was reported yesterday near the PMC garden between the Car and KTC bus. The car driver, who could not notice the sewerage barricades around the chamber, dashed to the KTC bus, due to which a woman occupant of the Car was injured.
Pondaitees demand proper safety measures to prevent untoward incidents.
Comment