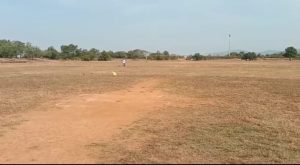 Goemkarponn desk
PONDA: The Bandora locals today strongly opposed the proposed Dirt Car Racing scheduled on 27 November at Goa Engineering College ground, stating it will destroy the playground.
The locals said it is the only ground for local youths in Bandora, Priol and Ponda youths, and if mud dumping for the car racing track is permitted, then it will destroy the playground, and it will take two years to restore it.
The local youths also urged GEC Principal not to permit any Car racing on this ground.
Urvashi Redkar said locals are dependent on this ground for various activities.
"We never had in the past opposed for good events here. We learnt from a reliable source about proposed car racing, which will destroy our ground. Once the event is held, the organizers never restore ground which is our past experience. This is not a suitable place for such race," they said.
They added that the Mapusa-like incident should not repeat wherein a bike rally at Mapusa while performing stunts, a youth had died a few days back.
Another Bandora local, Gaurav Khandolkar, said they have been playing various games on the ground for the past many years, cleaning and maintaining it.
"Not only youths but also senior citizens visit here for morning and evening walks besides performing yoga in the natural environment," he said.
He feared that for car racing, the organizes will heaps of mud dumps which would destroy the playground maintained by the hard work of local youths.
In the past also, some racing was held, and the organizer abandoned the mud dump at the site. The next day the youths from some other localities also started stunts on the abandoned track, thus causing a nuisance to locals and senior citizens visiting the ground for various activities.
Comment