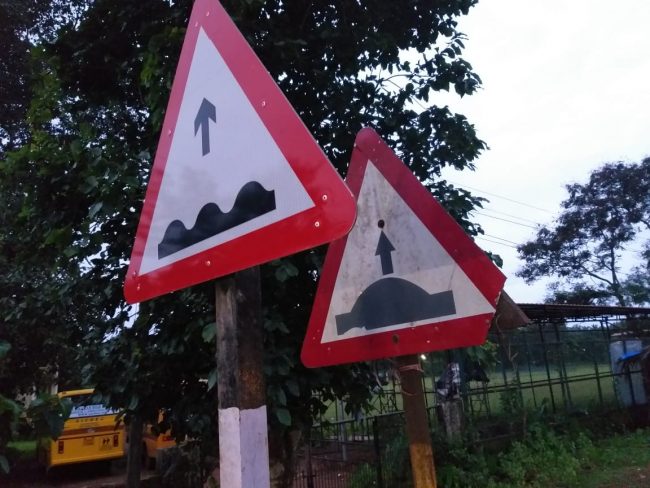 Goemkarponn Desk
CANACONA: PWD (Highways) authorities were caught napping once again, as four pieces of duplicate Road Signboards are found dotting the NH-66 road section in Canacona.
The apathy is, three traffic sign- boards to warn motorists of existence of Spead-breaker are erected at not only one, but at three different location where there are no Spead-breaker at-all. And in a second instance two more (duplicate) back-to-back erected traffic signboards to show a Left-Turn are prominently displayed at another location of NH-66 road.
'This is a pure wastage of public money and very irresponsible behaviour of PWD officials. Each of the traffic signboards reportedly costs between 5000-6000 rupees, and duplication of the same is nothing less than drainage of public funds ', complained Vishant, a local resident.
According to sources, the NH-66 road from Polem to Gulem was taken up for repairs and Hot-Mixing, which was however carried out at three different times.
At one location, though Spead-breakers are illegal in highways, an old existing Speaker was done away during the last Hot-Mixing works, and after the completion of works, one more road traffic signboard is erected right at the side of the old existing signboard, when the Spead-breaker bumps were no longer in existence and all these are seen at Dapot-Maxem area of NH-66 road in Loliem-Polem village.
Residents complains that this is not only intriguing to motorists using the road but also unnecessarily drains the public exchequer.
Comment