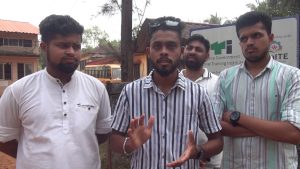 Revolutiopnary Goans makes a case of govt's
reckless apathy towards
Says deteriorated structure/ building is falling, toilets have no doors; Weeds creep inside campus Principal holds charge in 3 ITI's; Shortage of Instructors
Goemkarponn desk
CANACONA: Stating the structure of Canacona ITI building is deteriorating every passing day and is on the verge of collapse anytime, RGP Youth wing called for immediate government's effective measures to bring safety to the Students and working Staff to avert any impending calamities.
Speaking to media after visiting the ITI Canacona RGP State Youth president Ashlon Rodgrigues and some local youth Revolutionaries informed that on intimation of some ITI students and parents they have come to inspect the ITI Canacona and found the structure has almost reached to a stage where it can collapse at anytime.
RGP's Youth Canacona representative informed, 'The building structructure has deteriorated so much that it can collapse at any moment. In most of the rooms, the Iron/steel bars and cement have come out of the Slabs, falls and falling down, the bathrooms are in such a sorry state of affairs that there are no doors left to close the bathrooms.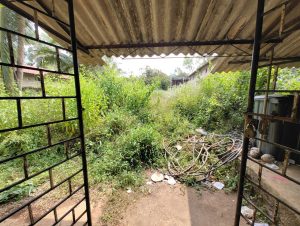 There is no privacy left in the bathrooms.'
RGP State Youth president Rodgrigues informed that they have come to see the Principal of Canacona ITI, but were told that the Principal is in some other ITI, as he is together holding 3 ITI's in charge. We are informed that the Principal comes only one or two days in a week as he has two other ITI's to look after. Some of the students also informed us of a shortage of teaching staff.
One teacher has not come for the last 3 months nor any replacements are taking the classes.When we entered the ITI, we found the building is in bad and pathetic condition. Cement and steel falls out, and even the main gate is rusted and cannot be closed at-all.
The surroundings are so bad that the overgrown bushes and weeds have creeped inside. An incharge at the ITI informed me that there is another structure coming up behind the existing ITI building. If that is so, are they waiting for some calamities to befall on students here? When questioned, the incharge informed them they have already informed the government about the ITI building's condition, then my question is why is the government or PWD silent and not doing anything to make the students safe?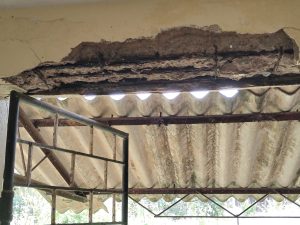 Are you waiting for some mishap to happen and will act only after some people reach the hospital?
'There is also a need for an additional bus, as students come packed into it, but the ITI staff denies it.'
'I demand that the government should immediately inspect Canacona ITI and, without wasting any time, take all-out actions particularly precautionary measures to avert any untoward incidents. RGP will take this government's folly lightly, but will take everyone concerned to task if no safety measures are put in place at Canacona ITI.
Comment