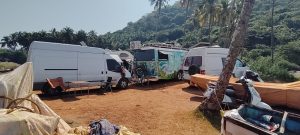 Goemkapronn desk
CANACONA: After almost a gap of two years, Caravans appear once again on Canacona beaches.
Agonda's Southern end Coast has had more than 10 Caravans carrying families, including kids and Pets, since a fortnight ago, and if sources are to be believed, many of these Caravans will be anchored on the Coast for the next two months at the least.
The vehicles equipped with everything a residential house can hold, even to the extent of a portable toilet, water filter, bedding, with enough power back up, and mostly having a bicycle as emergency mode conveyance, have between five to 10 occupants.

The caravan also has cooking facilities and foldable/adjustable table chairs, and it is even equipped with boats and rows.
The caravan vehicles that are already stationed in Agonda and have already celebrated Christmas and New Year are from among the countries of France, Dubai, Germany, Belgium, Italy and Germany.

A family from France with two kids informed they have entered India at Wagah Border from Pakistan, and after their stay in Goa, where they intend to station their vehicle for at least a couple of months, they will be heading to the South and East Coast of India.
The vehicles are parked/stationed at the extreme south of Agonda beach Coast and close to Val rivulet.
While panchayat has been making some fee/charges recoveries from the stationed Caravans in the past, Residents of the area bitterly complained about the release of human excreta and other wet wastes thrown into the Val-river, totally vitiating the water body with pollution.
Comment