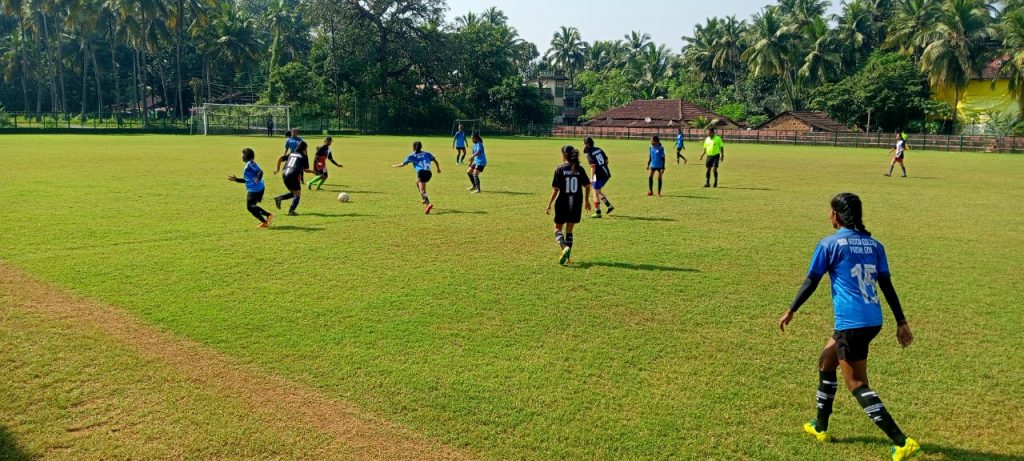 Goemkapronn desk
PANAJI: In the first match of the day, At Goa University Ground Carmel College, Nuvem defeated Swami Vivekanand College, Borim by 3-0. In the first half, Jesnary Fernandes and Mercy Barreto scored in the 5th and 13th minute, respectively, for Carmel college to take a lead of 2-0. In the second half, Swami Vivekanand College defended well, but Carmel managed to score one more in the 49th minute, which came from Jessney Fernandes to seal their victory and advance to the next round of the championship.
In the match at Rosary College Ground, Don Bosco College, Panjim defeated Goa Medical College 8-0. Karen Estrocia was a star goal scorer, scoring a total of four goals and one goal each by Khalida Kachavi, Aniksha Morajkaa, Jocelya Carvolho and Aosa Sayed.On the day 2,
At Goa University Ground, In the First Match of the Day, Dhempe college, Miramar, defeated P.C.C.E.Verna College in a tiebreaker by 3-4. Both teams couldn'tcouldn't score a goal in until the end of the stipulated time. In a tiebreaker, the goalscorer for P.C.C.E, Verna were Gail Fernandes, Darlene Figueiredo, & Aloysia D'SouzaD'Souza and for Dhempe College goals were scored by Joyanna M., Preeti Kunkolkar, Sejal Shetty & Tulsi Dodmani.
In the second match of the day, G.E.C Farmagudi college defeated C.E.S. Cuncolim by 2-1. In the first half both teams managed 1 goal each to equalize the score, where J.S Jesnita scored for G.E.C. in the 14th minute and Marylene Fernandes scored for C.E.S. in the 22nd minute. In the second half both the teams fought hard for the victory and G.E.C. succeeded to score one more in the 46th minute which came from Swayta Belgaonkar to take the lead for victory.
In the third match of the day at G.U. ground, Narayan Zantye College, Bicholim defeated Mandre College by a score of 2-0. Both the goals for Zantey College came in the first half by Santoshi Tuyekar and Alesha Fernandes. In the second half, Mandre College tried to fight back, but the strong defense of Zantye college kept their goal scoring opportunity at the bay.
At Rosary Ground
In the First match of the day,VM Salgaocar College of Law, Miramar won by 5-4 in a tiebreaker against Shree Damodar College, Margao. In the first half, a goal in the 2nd minute of the match scored by Phelucia Cruz gave a good start to Shree Damodar College leading them till half time 1-0. In the 2nd half VM Salgaocar started with attacking moves to equalize on 43rd minute by Apurva Vaigankar equalized the score. Finally in the tiebreaker VM Salgaonkar wins 5-4.
In the 2nd match of the day between Fr. Agnel College, Pilar VS Ganpat Parsekar College, Arambol saw another results viaa a tie breaker, in which Fr. Agnel College won 4-3 and advanced into the next round.
Match scheduled on 28/10/2022
At Goa University Ground
Vidya Prabodhini College, Porvorim v/s Goa Multifaculty College, Dharbandora at 10:00 a.m
Govt. College, Sanquelim v/s D.M.C.R., Assagao at 2:00 p.m.
S.S. Dempo College, Cujira v/s Govt. College, Quepem at 3:15 p.m.
At Rosary College Ground
M.E.S. College, Zuarinagar vs Govt. College, Borda at 11:15 a.m.
G.R. Kare College of Law, Margao v/s Govt. College, Pernem at 2:00 p.m.
Comment