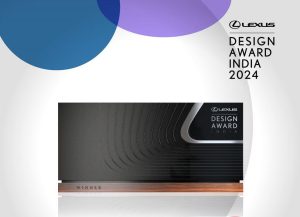 the Milan Design Week 2024
Seventh edition of Lexus Design Award India (LDAI) affirms Lexus India's commitment to empowering and encouraging the next generation of creators & designers in India
Lexus India has announced the call for entries for the seventh edition of its most celebrated – Lexus Design Award India 2024 (LDAI), a unique platform for design professionals to showcase their talent and creativity. Entries will be accepted beginning the 20th of July till the 30th of September 2023. Lexus India is seeking innovative ideas from design professionals that contribute to a thriving and better future for all through the power of design and technology.
LDAI, since its first edition in 2018, has received an overwhelming response. In 6 years, LDAI has received over 4300 entries from across the country with participants sharing their unique designs with an aim to create a better tomorrow. The designs curated were focused on solving problems in a wide range of areas such as healthcare, energy conservation, sustainable goods, and waste management, among others. The last edition of Lexus Design Awards 2023, which took place last year in December 2022 in Delhi alone, saw over 3000 entries in various categories.
Speaking on the commencement of the Lexus Design Award India 2024, Mr. Naveen Soni, President, Lexus India said, "We are delighted to announce the Lexus Design Award India 2024, a remarkable platform that highlights the ability of design to address and solve pressing issues in our country. At Lexus India, we strongly believe in cultivating innovation, pushing the limits, and nurturing emerging talent. This prestigious award is designed to honor and uplift the most brilliant minds in the Indian design community, showcasing their visionary ideas and solutions. We are excited to witness the profound impact that design can have in tackling the challenges faced by our nation, as we pave the path towards a brighter and more sustainable future."
LDAI over the years, has witnessed many interesting designs that will create a better tomorrow for the society. Some of the designs have been compiled into a limited-edition Lexus Coffee Table Book. The objective of the LDAI awards is to acknowledge and honor exceptional works of industrial design crafted by talented Indian designers and seeks to commend designs that proactively address the future challenges of society and envision captivating and inventive approaches to foster a sustainable future, while effortlessly augmenting the overall happiness of individuals.
STIR which is a global media house and curatorial agency committed to advancing creativity and path-breaking ideas in the fields of Architecture, Design, and New-media Arts, is the official curatorial partner for Lexus Design Awards in India.
With LDAI, designers will be guided by the three pivotal design principles Anticipate, Innovate and Captivate to express their innovative thinking and originality that anticipates challenges faced by society and imagine engaging & innovative solution that will contribute to a sustainable future, thereby seamlessly enhancing the happiness of all.
Lexus Design Award India 2024 will invite entries from the following 6 categories:
Conceptual category
Original ideas awaiting materialization. Explore architecture, design, and crafts with diverse functions and shapes. Abstract or practical concepts that can transform into reality.
Industrial design:
Address evolving needs through inclusive, human-centric, and eco-friendly design. Focus on mass-produced works like digital applications, household goods, and transportation tools.
Textile design:
Embrace innovative textile designs, including weaves, prints, and patterns. Highlight functionality, cultural contexts, craftsmanship, and emotion.
Furniture design:
Recognize designers shifting paradigms. Enhance function, form, and ergonomics with applied art and sciences. Celebrate the skill of furniture placement.
Built environment:
Celebrate creativity, technical expertise, and social impact in urban design and architecture. Showcase imaginative spaces, infrastructure, and sustainable development.
Tech design:
Disrupt design with innovative technology. Focus on solution-driven entries, considering components, assembly, sustainability, and transformative potential.
To judge the highly anticipated LDAI 2024, Lexus India is pleased to announce its distinguished jury members. Comprised of accomplished individuals from diverse fields, the jury will lend their expertise to recognize and honor exceptional talent in the world of design.
The judging committee of notable design experts will select five winners across categories and the finalists will be given guidance by a team of leading & eminent design gurus from diverse design disciplines at a specially curated design workshop. The workshop will guide the designers to refine their entries before they present their projects to the judging panel, who will then select a winner from each of the categories. They also stand the chance to travel to Milan and experience the Lexus Design Event at Milan Design Week in Italy in 2024.
Comment