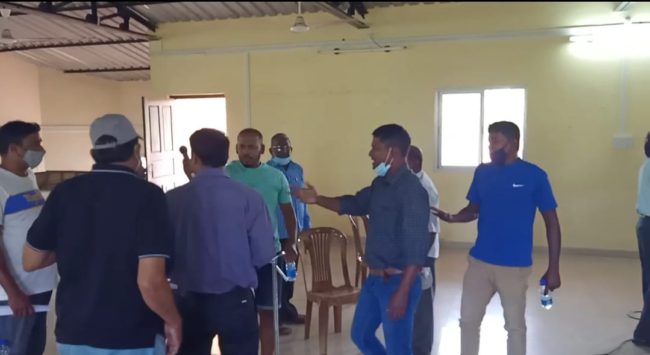 Goemkarponn Desk
Assolda: The Assolda village panchayat Gram Sabha called on Sunday witnessed chaos and confusion over over government decision on time limitations for Gram Sabha.
The villagers said they and would not allow next gram Sabha at Assolda panchayat unless the rules are changed.
Local panch member Custodio Fernandes criticized the government saying that after finishing the main agendas questions, no more time allowed to public for discussion.
"Any problem, which may be sometimes very important to locals villagers or in case of any emergency, this decision is very harsh for common men who totally committed for betterment of village," he said.
Further, he added, instead of such restrictions, the Government may well stop conducting Gram Sabha.
Angelo Fernades another villagers said that panchayats are wasting money on cattle ponds but solution is not yet found..
Sadanand Raut said that due to pandemic today's Gram Sabha took place after one year, but Assolada panchayat members are in a hurry to finish the Gram Sabha.
Assolada Panchayat sarpanch Lata Naik said that the late arrival of people was to be blamed for the situation.
"We had announced the schedule before but people came late and hence the time was not sufficient. The time schedule was 9.30 to 11.00 but people came late," she said.
Panchayats secretary Lencia Luis of said the meeting took place according to quorum.
Comment