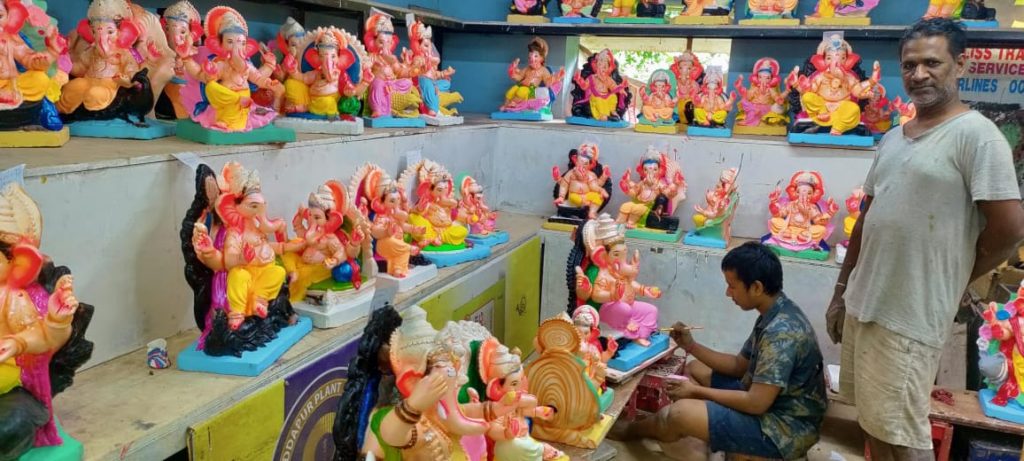 Goemkarponn desk
CANACONA: The well-known Chari clan of Canacona are all engrossed in their annual trade of Ganesh idols, as its fourth and fifth-generation artists are engrossed at their workshop at Char-rasta.
The workshop of Ramesh Chari (late) has an indomitable task of meeting the date, as five numbers of Sarvajanik Ganesh idols with different sizes, shapes and figures ( number of idols) are worked on by the fourth and fifth generation artists of the Chari clan.
The Ganapati idols of as high as 18ft and different sizes figures numbering more than 40, with a theme of 'Vishnu-Rupi Dasho-Avtar' of
Quepem Sarvajanik Ganesh Mandal, known for its annual Lotteries in its 35th year, is taking shape in the Chari workshop of Char-rasta, Canacona.

'Since 1998, with a gap of some three years including last Covid year, we are designing and sculpting the Ganesh idols with different themes. This is our 25th year, and we are in our silver jubilee year since we are associated with Sarvajanik Shree Ganesh Utsav Mandal, Quepem. This year, we have designed a scene of 'Vishnu-Rupi Dasho-Avtar', a unique one consisting of more than 40 figures in consultation with the Mandal of Quepem, Manoj Chari. They, along with his brother Rupesh, their Sons Parth, Uniek, Samarth, Saksham and their Sister's Son- Gaurang and Daughter- Aksha, are all deeply engrossed in a very tight schedule of meeting with the date of Ganeshosthav festival. While Uniek is a Fine Arts student, Gaurang has a master's in Arts.
Incidentally, while almost every menfolk are engaged in moulding Clay to sculpt the idols, some, along with women members, carry out painting and finishing works. 'Time is very precious, and we had to limit our orders especially for sculpting Sarvajanik idols depending on the number of figures each Sarvajanik Mandal has in their theme/scene', Manoj himself starting early in the day and working into late hours.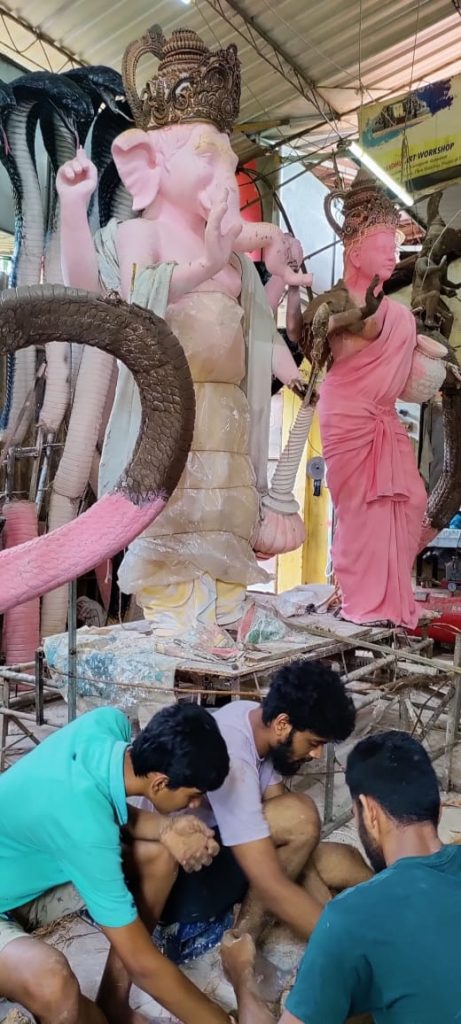 Chari's of Char-rasta also has four other orders of Sarvajanik Ganesh idols of Mala-Panjim(12 Ft), Char-rasta (10 1/2 Ft), Chaudi (7 Ft) and yet another at Karwar.
Each of these Sarvajanik Ganesh idols has different numbers of figures, Informed Rupesh.
Stating there's not much difference in the paints used in Ganesh idols and other Figures, getting the specialised Clay remains a challenging task. Every year, artists, at least of Canacona, had to make lots of efforts to obtain the same. 'Actually, the clay(chikan-mati) used to prepare Ganesh idols is still available in Canacona, but getting it across from the open fields has become so much worrisome and tedious that we prefer to purchase the same from Ankola (Karnataka) or even from Thivim (Mandrem).
According to Manoj Chari, the handmade idols prepared at their workshop are eco-friendly and 100% biodegradable.
Interestingly, stating they cannot take more orders, especially from Sarvajanik manuals, Chari informed their workshop also caters to the different families of Canacona and prepares more than 150 small and big size Ganesh Idols worshipped in households, a service which our forefathers had been doing since past three generations.
Comment