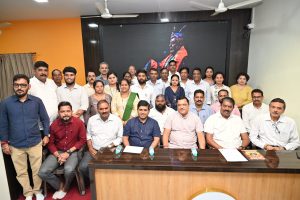 Goemkapronn desk
VASCO: The newly formed Mormugao Taluka Chatrapati Shivaji Maharaj Jayanti Utsav Samiti (MTCSMJUS), comprising all elected members ranging from MLA, Ministers, panch, Councillors and ZPs from Mormugao Taluka, will have a grand-scale celebration on the occasion of Shiv Jayanti at Chicalim.
Addressing media, Panchayat Minister Mauvin Godinho on Wednesday evening said that programs will be held on Sunday evening and start with prayers offered at Damodar Temple Vasco.
"We will offer a coconut at the Damodar Temple and take a procession from there till Chicalim Shivaji Smarak and a grand program are held there. We saw great enthusiasm when a program was held there last year, and the program will only improve this year. This year we have people from the entire Taluka who will be a part of this program, and we are all united irrespective of caste, creed or religion, just like it was acceptable to Chhatrapati Shivaji," he said.
This year, he added, we have with us all the MLAs, panch members, Sarpanchas, MMC Chairperson, councillors, ZP Members BJP Mandal Heads from the entire Taluka who will participate in the program.
"The function will be grand, and this program will inculcate the habits of Shivaji and teach and inspire our youngsters about Indian Culture. We have people of all religions who will participate in the procession and function on Sunday evening," said Godinho
Vasco MLA Krishna Salkar will organise a program by the MTCSMJUS where talks will be given on the life of Shivaji.
"We have a historian Kedar Phalke who has written a thesis on the life of Shivaji, and we will have a program ", Shivaji, yesterday, today and tomorrow," he said.
The rally will start with the offering of coconut at the temple at 4.30, followed by a procession that will be welcomed at the Chicalim Smarak with a Dhol Tasha Pathak that is come from Kolhapur.
"We will have talks from Kedar Phalke and other leaders followed by a Pawwada program and end with Maha Arti and pooja," said Salkar.
Comment