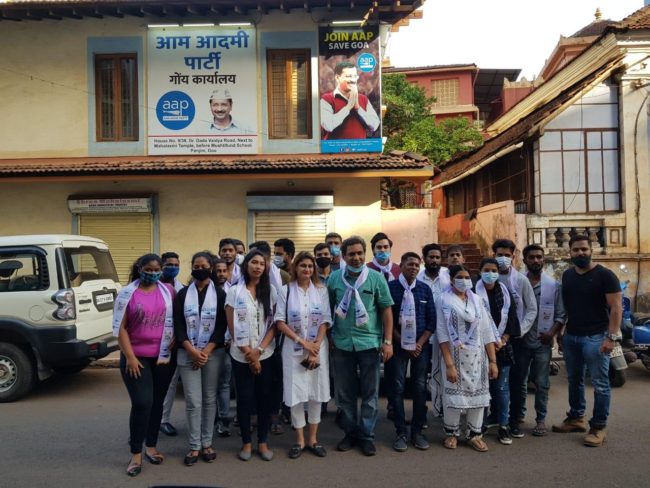 Panaji: Around 20 members of the Congress Party today joined the Aam Aadmi Party under the leadership of Adv Pratima Betsy Coutinho who recently joined AAP after resigning as the Goa Mahila Congress President.
Among those who joined AAP today are Roshni D'Silva who was the social media head and Secretary of Goa Pradesh Mahila Congress, Elaine Fernandes, Venzy Fernandes, Jyoti Gawas, Asifa Sheikh and Andrea Dias who were executive committee members of the Mahila Congress.
Roshini said it was a moment of joy for her to join AAP on the eve of Easter and recalled how she has been working with Pratima for four years. "While BJP is continuing its goondagardi the Congress is neglecting the youth who have no future in that party," she said.
Besides a large number of youth congress members joined AAP today and many of them are muslims who are usually considered to be die hard supporters of the Congress. Kanta Gawde who was an executive committee member of the Congress ST committee was amongst those who joined AAP.
"I have worked for the Congress for the last 20 years but my work was never recognized or valued by that party and instead of being ignored all the time I have chosen to join AAP now and will work for the party from Pernem to Canacona," he said.
Pratima Coutinho said that this is just the beginning and many more will be leaving the Congress to join AAP as many in Congress feel that is now turning into a "sinking ship". She pointed out that the once vibrant and active youth Congress is today restricted to having one programme in three months and most of its members are people above the age of 35.
AAP Goa convener Rahul Mhambre while welcoming all the new members of the party said youth in particular are getting attracted to them because of their motto of "Goa for Goans" wherein all decisions concerning Goa and Goans will be taken by the party leaders in Goa itself instead of waiting for the high command in Delhi.
"We are providing a platform for the youth to raise their issues and find solutions to them and that is the reason why more and more youth are joining AAP today," he said.
Replying to a question Rahul said AAP has not fielded any panel at the municipal elections but wherever some of their volunteers are contesting the party is supporting them in whichever way possible and disclosed that Pratima had canvassed for the two volunteers contesting in Quepem.
Comment