Goemkarponn Desk
PANAJI: Young tennis star Darsh Pai will face Vivaan Agrawal in the finals of the boys under-14 category at the ongoing BPS All-Goa State Ranking Tennis Tournament 2023 at Margao.
Tithee Bhoomkar and Vidhi Naik will take on each other in the finals of the girls' under-14 category. The four talented players are set to face-off against each other for the second time this year in a state-level all Goa state ranking tennis tournament.
Pai easily overcame the challenge by Ethan Ataide without losing a single game (4-0, 4-0) in the semi-final, while Agrawal overcame a sturdy challenge by Shashwat Mathiyan in the semi-final match. Agrawal won the first set 4-1, before Mathiyan responded by winning the second set 4-1. In the final set, Agrawal managed to nudge Mathiyan from the contest by winning it 10-6.
In the girls' under-14 category, Tithee Bhoomkar took three mini-sets to defeat Gargi Oak to reach the finals. Tithee won the first set 4-1, before losing the second 3-4. Oak eventually lost the final set 10-7 and along with it, her hope to reach the final of the event. In the other semi-final in the same category, Vidhi Naik beat Tvisha Sardesai (4-3, 4-0) to enter in the final.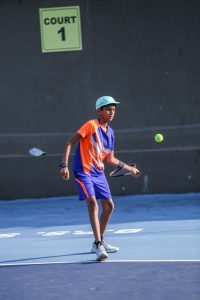 Pai and Tithee had defeated Vivaan and Vidhi respectively in the TNS PG Open Tennis Tournament held in April 2023.
In the men's double's quarter final of the state level ranking tournament, Rajaram Kundaikar and Santosh Gorawar easily defeated Rajesh Bundela and Aman Bundela (6-0) to enter the semi-finals, while Avadhut Palekar and Pankaj Naik were forced to play out a three setter by Akhil Shirwaikar and Arnam Ghosh to reach the semi-finals.
Palekar and Naik won the first set 4-2, before Shirwaikar and Volvoikar snatched the second set 3-4. In the final set, despite a stellar effort by the latter duo, Palekar and Naik eventually managed to win it 10-8.
In two other quarter final matches, Prithvi Naik and Deepak Nahak came from one set down to defeat Anurag Agrawal and Chinmay Kantak. Naik and Nahak lost the first set 1-4, before winning the second 4-0. The final set was a closely contested affair, which the former pair won 10-8, to reach the semi-finals.
In all, 126 tennis players have registered to participate in the BPS All-Goa State Ranking Tennis Tournament 2023 which has been organised jointly by the prestigious BPS Sports Club in Margao and the Goa State Tennis Association (GSTA). The total prize money for winners of the various categories in the tournament is Rs. 70,000.
Comment