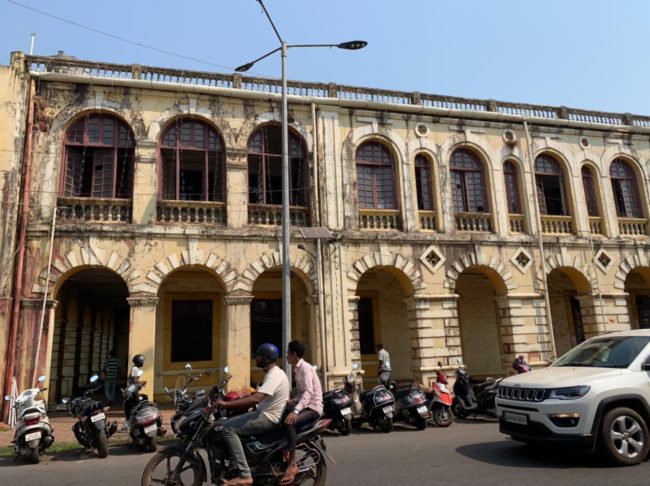 Goemkarponn desk
GAURANG PRABHU
MARGAO: Despite being the commercial capital of the State, Margao also the capital of South Goa seems to have been left far behind in terms of development as citizens .
Be it roads, water, sewerage, garbage, planning etc, Margao Municipality seems to have failed to keep up with the expectations of the people of the town.
Citizens of Margao seem disappointed with with the tenure of ruling panel, which had a brute majority for full term of five years.
The locals also say that the ruling panel failed to solve the problems of city.
They say the Council was more in the news due to different scams during the five-year tenure.
Margao residents say the MMC totally failed to solve the problems of Margao like garbage, issue, encroachment, parking, disposal of old vehicles, tax collection, increase in illegal construction etc.
Goemkarorponn spoke to few of the well-known citizens to know their view and experience of ruling council and most of them seem dejected with the functioning of the ruling council.
Vivek K Naik, a Margao-based businessman says all issues related to General public are not resolved.
"There is absolutely no traffic discipline, the municipality till date failed to provide better parking facilities for general public and garbage collection, disposing has become a big money making racket," he said.
He said that instead of treating the garbage, the MMC is dumping it and as such more dumping yards are coming up in city.
"Illegal encroachment is growing in city. Illegal construction are mushrooming everywhere, stray cattle are occupying streets, garbage treatment plant is measure issue where crones of rupees are spent but not a permanent solution till date," he said.
Sanjay Dessai, Principal CESC & Social activist, says during last five years of municipality has under-performed.
"Last five years they have not able to solve issues like Sonsodo garbage. You can see garbage on road side everywhere in Margao town, parking facility is very poor, no improvement in internal roads in market area," Dessai said.
He stated that there is a lot of scope for improvement in public service.
"There is need for improvement in e-Governance services, municipal staff need to be more people friendly and they need to be more efficient," Dessai stated.
Savio Coutinho, convener, Shadow Council for Margao says in spite of Madgaonkars giving the Model Margao-Fatorda Forward alliance an absolute majority, the city could hardly see any development whatsoever.
"The entire five year term was marred with scams, and all of these scandals were at the cost of public funds. While for nearly half of the term, we could hear the chairperson ranting about issue of Margao being inherited by the Council, they miserably failed in their responsibility even after having a very stable council. But definitely scored a distinction through the various scams," Coutinho states.
Sidhanath Buyao, a well-known citizen of Margao, says the Forward MMC panel forced citizens to breathe pollution and foull smell.
"The new trend has started in Goan politics, that MLAs switch parties citing development of their constituencies. But we are so much unfortunate that despite, Fatorda MLA Vijai Sardesai was in cabinet and his panel was rulling MMC, no development has taken place. I was very much part of Forward panel and also composed theme song Fatorda Forward that time. But forget about new things and development, MMC failed to tackle major issue of Sonsodo. The stinking garbage and the leachate issue has been not resolved.
They have even failed to table our issues at right forums," he stated.
Bhaskar Dessai, journalist from Margao says the Sonsodo garbage issue Is major problem In Margao Muncipality Area.
"For last 20 years. Margao and Madgaonkars suffered a lot because of this garbage issue. Every time it's hot topic in Margao municipality administration and municipality circle. Many agencies came forward to solve this issue but no one succeeded. Our city father's also kept faith on these agencies blindly," he says.
Dessai says the garbage issue is going from bad to worse.
"It's responsibility of Margao Municipality to solve the garbage issue and provide citizens clean and healthy environment. But Margao Municipality Is continuously failed in its responsibility. Our city father's are busy in blame game from last so many years. It is very courageous to talk about development of Margao Municipality area without solving Sonsodo garbage problem," he says.
Comment