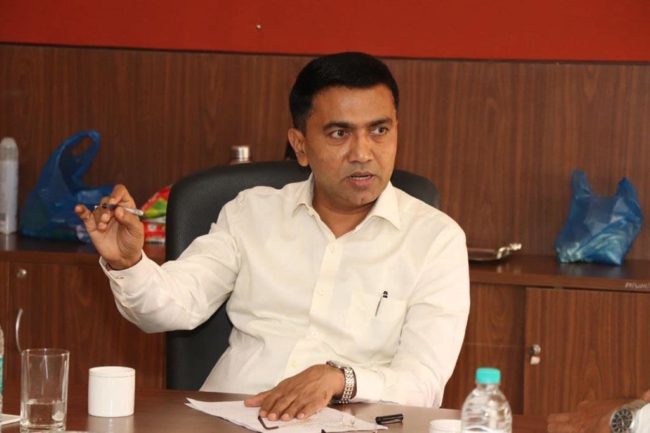 About Project:
– Development, Operations and Maintenance of Naval Museum along with Toy Train and Environmental Park in Goa.
– State-of-the-art museum was proposed to be set up at Miramar in 12,931 square metre area
– Decommissioned IL38SD Indian Navy aircraft (current location INS Hansa) was to be stationed for creation of a museum.
Timeline
– Tender for Naval museum floated on: 29 October 2021
– Last date of bidding: 30 November 2021
– Date of tender opening: 01 December 2021
– Document verified & submitted by SLPMU to TEC: 10 December 2021
– Bagkiya constructions exposed M/s Holidays In Goa: 23 December 2021
– GTDC sent complaint for government's approval: 14 March 2022
– Legal opinion given by Advocate General: 16 June 2022
– Consideration to scrap and re-float the tender moved for governments approval: 24 June 2022
– Chief Minister wrote to the GTDC to re-seek AG's opinion: 21 July 2022
– Tender cancelled on: 27 July 2022
Biding details
– Three financial bidders namely M/s Holidays In Goa, M/s Bagkiya Constructions Private Limited and KVR constructions were qualified.
– M/s Holidays In Goa emerged to be a winner with a biding amount of Rs 5,67,89,999
– Documents verified by: State Level Project Management Unit (SLPMU)
Sthrigdhara Naik /
Goemkarponn
PANAJI: It's almost been three months since Goa Tourism Development Corporation Limited (GTDC) filed a complaint against a consortium headed by M/s Holidays In Goa for allegedly submitting fraudulent documents during e-tendering of a Naval Museum project, but to date, no FIR has been lodged against the fraudster.
Panjim police, police inspector informs that the discussion to lodge an FIR against Chitti Babu Ghanta, the owner, is underway, and the process of same will start once the case is discussed with the incharge officer and Deputy Superintendent of Police.
The fraud…
GTDC, in October 2021, had floated a tender for developing a project called "Development, Operations and Maintenance of Naval Museum along with Toy Train and Environmental Park in Goa". The project was proposed to be set up in 12,931 square metres government-owned plot situated near Science Centre Miramar.
The bid, which was opened in December 2021, was won by a consortium led by M/s Holidays In Goa for quoting a financial bid of Rs 5,67,89,999. State Level Project Management Unit (SLPMU), after verifying the documents of bidders, submitted the result to Tender Evaluation Committee (TEC) in December 2021.
After the evaluation process was complete, GTDC was to go ahead with offering a Letter of Acceptance of Tender (LOA) to the successful bidder, post receipt of administrative approval.
Before GTDC could offer a letter, the unsuccessful bidder Bagkiya Constructions Private Limited, levelled serious allegations that M/s Holidays In Goa had submitted forged documents to meet the tender criteria. Bagkiya, under the Right to information (RTI), obtained the documents and drew the attention of GTDC over the infringement of terms and conditions by M/s Holidays In Goa. RTI revealed that the winning bidder had submitted the forged documents.
The critical violations included endorsing a fake signature by one of the Navy experts Shailendra Mishra of M/s Holiday In Goa. RTI revealed that the signature endorsed on the undertaking and the original Permanent Account Number (PAN Card) are mismatching.
The violation was also seen in the GST invoice submitted by M/s Holidays In Goa. GST Commissioner, after verification of the invoice, informed GTDC that the GST invoice submitted by the lead bidder is fraudulent in nature. The remark from GST Commission can be read as, "Invoice prima facie submitted by the supplier appears to be issued with fraudulent intention".
For any consortium to participate in the Navy museum project, a consortium must have an agreement with a Navy expert. A Navy expert or Aircraft engineer deals with the dismantling of an Aircraft.
On account of this, TEC probed into the above matter and in the enquiry conducted, Ghanta was found guilty. TEC recommended that M/s Holidays In Goa, headed by Chitti Babu Ghanta, be disqualified, blacklisted and should be prevented from participating in any future tenders floated by the GTDC.
Furthermore, it was proposed to initiate criminal proceedings against Ghanta, his consortium partners and Navy expert Shailendra Mishra for being involved in forgery and criminal conspiracy under the relevant section of the Indian Penal Code (IPC).
AG says stringent action needed…
In this regard, a legal opinion was sought from Advocate General (AG). "In my opinion, GTDC may consider filing a criminal case against the M/s Holidays In Goa under the relevant sections of the IPC. Since large public resources are involved in such tender processes, stringent action should be initiated against the fraudulent to deter any such action in the near future", stated AG Devidas Pangam.
GTDC, in July 2022, tabled an answer regarding the aforementioned naval museum project in Goa State Legislative Assembly.
It stated, "While GTDC was in the process of sending the draft of police complaint duly vetted by advocate on the legal panel of GTDC, Chief Minister Pramod Sawant wrote to the GTDC to re-seek the opinion of AG".
The obvious question that arises is when AG had already given a legal opinion to initiate the criminal proceedings against the fraudster, Chitti Babu Ghanta, what made CM write to the GTDC to re-seek AG's opinion?
Alleging that the GTDC has given clear and undue advantage to M/s Holidays In Goa in the tendering process, the unsuccessful bidder said, "Even after bringing forth all the forgeries made by M/s Holidays In Goa, action taken by GTDC was delayed beyond acceptable timelines, and the tender was cancelled eventually.
As per clause 3.7.2 of RFP (Request for proposal), if the highest bidder is disqualified after tender opening, GTDC can award the tender to the second highest ranked bidder, that is, to the consortium led by M/s Bagkiya constructions Pvt Ltd. If so, then why was the tender cancelled? Why wasn't it awarded to the Bagkiya constructions?
Khaunte says will take action…
Tourism Minister Rohan Khaunte said GTDC will go ahead as per the opinion of AG. He added that action against the fraudster would be taken as per law.
Naval Museum…
When spoken to Indian Navy Commander Mehul Karnik, Cdr said, "GTDC in January 2021 had expressed its interest to the Indian Navy for possession of decommissioned IL38SD Aircraft (current location INS Hansa).
Responding positively to it, the Indian Navy agreed to the same and gave the green signal to GTDC to go ahead with setting up of naval museum in Goa in April 2021. In view of this, the Indian Navy signed a Memorandum of Understanding (MoU) with GTDC in December 2021".
Indian Navy's Soviet-era Ilyush 38 Sea Dragon (IL 38SD) is a long-range maritime reconnaissance and surveillance aircraft decommissioned in January 2022 after completing 44 glorious years of service to the Nation, added Cdr.
Comment