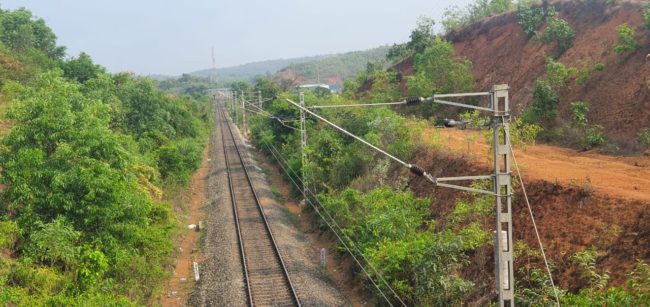 Goemkarponn desk
MARGAO: If one looks at the pace at which the infrastructure is created to electrify the Konkan Railway route, it is sure that in next few months the trains running on KRC route will be pulled by electric engines which now are pulled by diesel engines.
Sources from KRC informed that the Konkan Railway will soon take a route to complete total electrification of its Railway Network.
The world of late, is working towards moving away from diesel-powered locos that have an adverse impact on the environment and Indian railways is not far behind, the same source added.
As the KRC route is passing through Western Ghats which are considered as lungs of Western India, complete electrification of this route will reduce carbon emission levels and makes the transport a highly sustainable and eco-friendly organisation.
Jack Fernandes a local environmentalist after learning that electric engines will run on KRC soon said that its better late than never as the trains chugging through the most eco sensitive were responsible for pollution in the forests.
Western Ghats is a UNESCO World Heritage Site and is one of the eight hotspots of biological diversity in the world, it is wise on the part of KRC to go electrical added Fernandes.
According to reports, in the next few months, all diesel-powered trains on the Konkan Railway will be non-functional and only electric trains would be operational on this route.
The KRC has already conducted a trial of electric locomotive on some parts of this route confirmed a source.
The work of electrification on the Konkan railway line has been going on for the last few years and now has reached its final stages.
The first trial was taken between Roha and Ratnagiri after commissioning a 25KV line on this route.
After checking the power supply the test run was conducted on February 25, as engineers and other employees were instructed to be on high alert while testing the electric line.
With this trial run of 203 km and another on Thokur-Udupi stretch in the beginning of this year gaining a success, trains on the Konkan railway line shortly running on electricity will be a reality informed a reliable source wishing unanimity.
Comment