Embarrassment for CM as dentists protest during Nadda interaction
Dentists claim injustice over exorbitant rates on bio-medical waste; CM says protests politically motivated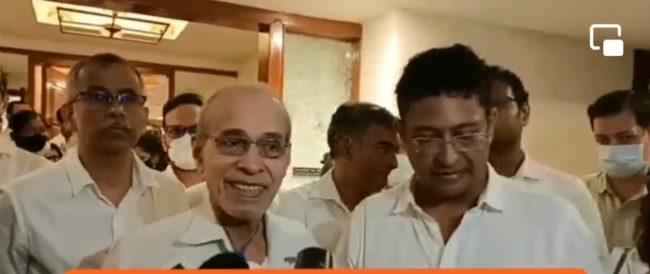 Goemkarponn desk
PANAJI: In a major embarrassment to CM Dr Pramod Sawant, Goa private dental practitioners protested and
staged a walkout during interaction with BJP National President JP Nadda over fee hike in handling biomedical waste.
The dentists said that the same agency is providing the same facilities at cheaper rates in Delhi.
The Chief Minister's office later clarified that protest began even after CM Sawant assured to positively resolve issues raised by aggrieved Doctors.
Speaking to reporters, Dr Anil D'Silva said the dentist association has come here to protest the injustice meted out to them on disposal of bio-medical waste and several other issues.
"We have been illogically placed in a category which considers we are producing far more bio-medical waste than we actually do," he said.
Dr D'Silva said that the earlier service provider used to charge them equal to the other general practitioners and that they expect the same now.
"The new rates are equivalent to a 10-bedded hospital. Does this make any sense? In Delhi, this same contractor chages Rs 600 a month, and we are made to pay Rs 1800 a month," he said.
The Chief Minister, on the other hand, said that the protests were politically motivated.
"Some people had come with their political motto, I guess. The issue is related to the State government.
I have met the dental association twice and assured them to look into the matter," he said.
CM said the bio-medical waste contract was awarded three years ago for bio-medical waste.
"The fees were decided then. I had assured them to look into the matter. We have to come out with a scheme as Government cannot give subsidies to the contractor. The scheme has to be prepared to give the subsidy to individual doctors and hospitals," he said.
Sawant said he clarified the issue during the meeting and asked for a time within 15 days.
"Some doctors seemed politically motivated, but I am still looking at the issue sympathetically," he said.
Comment