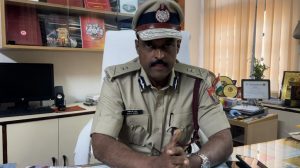 Goemkarponn desk
PANAJI: Following the spurt in fire incidents in the State recently, Director of Fire Services Nitin Raikar has said that the incidents could be attributed to an exponential rise in temperatures.
Speaking to Goemkarponn exclusively, Raikar said that
the reason behind the fire was the temperature change. "The temperatures have risen from 32 degrees to 37-38 degrees, and there has been a change of almost five to six degrees in a matter of few days. This can be one of the reasons," he said.
Secondly, Raikar added, the other cause is the dry grasses fire, when grass gets an ignition source from somewhere; for example, an electrical line ignites with a short circuit. Also, sometimes train friction causes fire in dry grasses, he said.
Raikar said another reason is the short circuits in electrical fixtures.
"From 3rd March to 7th March, there were 220 calls. In the last three days, 205 were fire calls, and 15 were emergency calls," he said.
On the Mhadei wildfire, he said the Goa Fire brigade team from Valpoi and Bicholim fire stations attended these calls.
"But our vehicles could not enter, and we tried to douse it from outside, and after our teams doused the fire and returned, we were told it was spreading again," he said.
Raikar said that after last night's CM's meeting, along with Forest Minister Vishwajit Rane and Chief Secretary MLA Deviya Rane, it was decided Fire team would go with the Forest department team, Police and locals inside the forest.
"We entered at around 1 am. Navy choppers were of great help with sprinklers to bring the fire under control.
I can't say what caused the fire, but the Forest Department may be able to tell you this," he said.
Further, with rising cases of fire, the director urged the public to maintain caution.
The director asked the public to act fast when the fire is at incipient stage.
"Try to douse it, and not wait for fire services as it spreads quickly. Also, changing electrical wiring is essential as short circuits cause a lot of fire," he said.
Comment