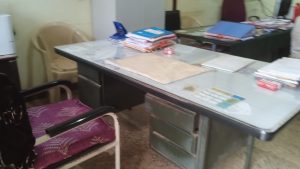 Amidst public complaints of Staff Party's every Wednesday. Media grills BDO
Goemkarponn desk
CANACONA: Amidst reports that Canacona BDO staff party's every Wednesday, media personnel laid a seize of Canacona BDO office found no presence of staff including the BDO officer till 2.45 pm on Wednesday.
BDO Anil Naik was the first one to enter the office at 2.45 pm, but no other officials, including the concerned Extension Officers came till the media left the office past 3. pm.
There were claims that BDO office staff enjoys a party at a secluded restaurant away from the Town, and returns to Office only by 5 pm every Wednesday.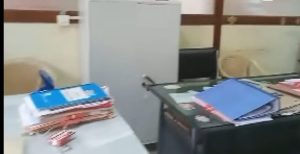 A team of media persons arrived at Canacona BDO Office, situated in Dy. Collector Complex at Chaudi, amidst sources feeding information that most of the staff do not report back on time after leaving the office for Lunch time, and mostly the BDO staff are enjoying weekly lunch Party's every Wednesday.
When media persons arrived in BDO office at 2.15 pm, found most of the tables empty, with 8 staff members including engineer not on their seats, besides the Block Development Officer himself was also not on the seats.
While lights were on, so were the office fans serving the empty tables.
It was at 2.45 pm, when Canacona BDO Anil Naik entered the complex and while headed to his cabin was stopped and asked for his later arrival and questioned about non-availability of staff in office.
"I had gone for a meeting in Margao, and after arriving in the office @ about 2.pm went out for lunch and now returning back to office. I am not aware of the whereabouts of my staff, presently not in office'" Naik informed when questioned about non availability of staff in office.
No other staff came back till 3 pm, when media personnel came out of office, even as BDO himself informed the staff will be asked to report to the office immediately.
When asked about every Wednesday a similar situation arises and BDO staff are seen enjoying a lunch party in a restaurant, BDO Naik denied he has any knowledge of his entire staff having parties on every Wednesday.
"Don't know about today as I was in Margao for a meeting, but every day my staff goes out for lunch at about 1.30 pm every day and returns to office by 2 pm", when a mediamen informed they have information that BDO staff have lunch party's every Wednesday at a distant restaurant and returns only by 5 pm to sign the register and leave office shortly to end the day.
Interestingly, some locals and particularly elected representatives complains that they hardly get BDO staff in office and not only officie works of their respective panchayat suffers, but common people works suffers too, and requested media alerted to give a surprise visit to the office.
When asked, BDO however, maintained that as an officer he has control over the staff and he is going to ask for explanation even as disciplinary action was demanded against staff for skipping the office during office hours..
It was noticed that Sarpanch of Gaondongrim Dhillon Dessai who also came simultaneously with the pressmen was seen entering the BDO cabin after he failed to meet any officials (Extension Officers), while media grilled the BDO.
Comment