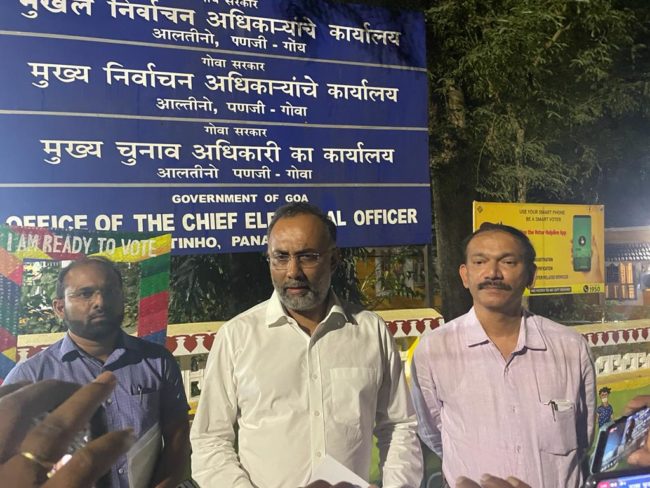 Goemkarponn desk
PANAJI: Congress party leaders filed an official complaint against the alleged fake news video, which Congressman claimed to circulated to malign and defame their candidates during the silent period just before polling day.
While AICC Goa desk in-charge Dinesh Gundu Rao claimed it was a pre-planned game, GPCC president Girish Chodankar said that the people of Goa will not spare such people who want to play dirty politics.
Dinesh Gundu Rao, senior Congress leader, who had come to meet and file a complaint with the Chief Electoral officer at Altinho Panaji on Saturday night, told media, as per section 126 under the people's representation act, we have filed a complaint with the Chief Electoral officer today evening.
"A gross violation has taken place in Goa to derail the election process. A conspiracy has been hatched by the AAP and BJP to see that Indian National Congress is defamed.
Rao further said that with the malafide intentions, a fake, doctored video by the news channel named Hindi Khaber was broadcasted during the silence period after the campaigning was over.
Rao alleged that the conspiracy had been hatched by AAP and BJP to defame three people: Sankalp Amonkar, Savio D'Silva and Avertano Furtado.
"The video was shown in a different light to damage the Indian National Congress party. If there were videos, then it could have been shown earlier. We have filed a complaint with the Chief Electoral Officer to take action against the Hindi Khabar news channel. The AAP candidate Amit Palekar is seen to be influencing the election; he is attacking the candidates of the Indian National Congress party and directly influencing the elections in Goa when he is a candidate himself," Rao added.
Further, Rao said that the BJP president is also live on that channel.
"When this program was fixed, how both party leaders were present at the program seems to be a perfect coincidence," he said.
He said that when they came to the Chief Electoral Officer to tell them that the party was following the rules and complaining about AAP and BJP who are doing violations.
"Here, when I am talking to the media, I am not talking about the electoral process, but the violations are done by the AAP and BJP and the news channel," Rao said.
He further stated that the Election Commission should not become a toy and a puppet in the hands of the Bharatiya Janata Party, and immediate action against Amit Palekar and a BJP state president should be arrested immediately.
"We have asked our candidates to file their individual complaints, which they will file before the CEO, and we will decide what to do later," said Rao.
Further, Rao said they are not canvassing here but stating that gross violations of law have taken place and action needs to be taken.
He also claimed that the Fake news video sting operation was pre-planned.
"It was pre-planned for the timing and show. Who were the actors in it, the two State party presidents of which party has come to light" Rao added
Goa Pradesh Congress Committee president Girish Chodankar expressed his suspicion that when on Saturday evening canvassing period was over in Goa and at around 7.30pm, a news channel went live with its fake sting operation.
"Before that, how come those downloaded sting operation videos were shown on the AAP Twitter account?" Chodankar questioned.
"In Navelim, Velim and in Mormugao, how their party is going to benefit keeping this in mind these candidates have been targetted. The fake sting video only shows that the other person is talking and is shown differently. If they wanted to do a sting operation, they could have done it a few days back, but now there is no way to defend these candidates during the silence period. There has to be a natural justice wherein everyone should get a chance to defend themselves," Chodankar says.
Girish further added that they have given a formal complaint about this matter. It is clear that BJP and AAP are the ones that we told people before.
Comment