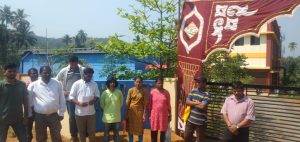 Goemkarponn Desk
PONDA: Even years after starting work on inauguration for Ponda 15 MLD Sewerage Treatment Plant it is set ready for inauguration on 23 February.
Chief Minister Dr. Pramod Sawant will inaugurated the plant at 11 am in presence of PWD Minister Nilesh Cabral, Local MLA and Power Minister Sudin Dhavlikar, Agriculture Minister Ravi Naik,
However, Farmers oppose inauguration, demand Justice and Compensation for land sacrificed.
Farmers family says Government first fulfill promises and than inaugurate the project. If government cant fulfill promise they should postpone inauguration.
Feeling of cheating among farmers for not fulfilling the promises they were assured in exchange of sacrificing their agricultural land.
The family protested at site along with RGP leader Vishwesh Naik, Premanand Gaude and others.
Farmer Tukaram Gavade said that the Government acquired their land around 3200 square meters land with promise to compensate them for land they sacrificed by them by providing them two Government jobs and construction of one hall with sitting capacity of 1000 people.
Tukaram Gavade and his family who were present for press briefing near STP site said the Local MLA and than PWD Minister Sudin Dhavlikar had assured them to settle their demand and had directed the Sewerage Department then SIDCGL Official Dilip Dhavlikar and AE Pradeep Gaude to fulfill their demands.
However now its seven years passed neither any government jobs nor hall is constructed. Tukaram said he was never ready to offer or sacrifice his agricultural land and that he was taking two crops every years but today he lost everything and struggling to feed family. He said neither We can cultivate land nor jobs were given.
The Sewerage official Pradeep Gaude cheated us. He said when We met PWD Minister Nilesh Cambral said the Local MLA and Minister Sudin Dhavlikar will solve the issue, however so far no solution.
We are cheated by Government by not fulfilling promises. We have agreement copy with us. Irrecoverable NOC was taken from us and cheated us.
He said he met all Stakeholders including Governor, Chief Minister, Local MLA and Minister but all in vain. He said his family is strongly against inauguration of STP constructed in his land by cheating his family. He said Government first fulfill promises and than inaugurate the project.
RG leader Vishwesh Gaude said Government on one hand ask people not to oppose development work,while on other hand after people sacrificing land is not ready to provide compensation. It is because of such attitude people oppose development works and not ready to give their land.
Premanand Gaude said the farmers family is cheated by government by taking irrecoverable NOC from them. He demanded thorough probe into matter. He said the AE who visited several times at farmers family is not ready to entertain them. The ST Commission is also not taking cognizance into matter this shows all are working for vested interest while the farmer here lost fertile land and left for suffering and that government give justice.
Comment