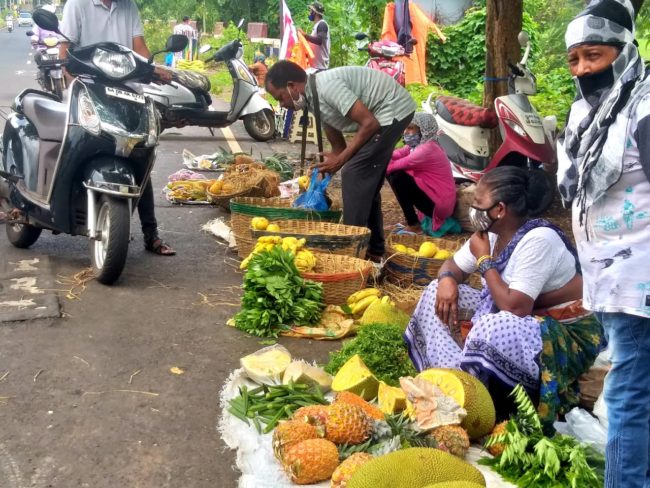 Goemkarponn desk
MARGAO: With no capping on vegetables and fruits rates, many local farmers are alleged to be selling their produce at much higher rate than the rates that prevailed during pre-pandemic periods, the closure of the shops selling these food items in the markets due to various factors have left the customers with no other option other than to buy many have complained.
Many locals brought this practice of overcharging by taking the advantage of the situation by the local farmers to the Goenkarponn.
These vendors grow vegetables and fruits in their properties and get the matured products to the markets in various towns in the state, normally it is seen that they squat on the roadsides as the authorities have not alloted them spaces in the various markets all over Goa which are now dominated by migrants.
It is common to see such vendors sitting opposite to Margao town police station, roadside of Quepem, Sanguem, Canacona, Margao-Panjim, Margao-Ponda-Panjim road and literally on all of the 300km of the highway passing through the state.
It may be recalled that late Manohar Parrikar while canvassing for the 2002 assembly elections had promised these vendors that he will build roadside markets to sell their produce but even after two decades the promise has not taken any concrete shape.
Many patriotic Goans say that it's a great feeling to see these enterprising local women and men selling their produce inspite of all the adverse weather conditions and risk from the moving traffic.
Many feel that inspite of lack of support from the government while selling their produce these vendors have shown their enterprising and resourceful skills in
trying to be atmnirbhar, but what has irked many is the sky rocket price they are charging for their produce.
"Is this the right way to double the farmers income which the government is talking about? asked an aggrieved buyer from Margao.
Amid stories of big farmers struggling to sell their produce due to the lockdown, these local farmers saw this as a golden opportunity to cash in at the distress of others, this behaviour of these farmers have come for strong criticism also from many residents around.
The local farmers feel that their fruits and vegetables are the new gold and this is the time to fatten their purses may complained.
While there are stories of some farmers even offering their produce free of cost to the needy, these farmers who have doubled if not tripled their rates are spoiling the heroic deeds done by others they feel.
Prabhat Amolkar who left a lucrative job as a marine engineer to pursue his passion for farming is a classic example of humanity being in still in existence as he distributed his agricultural produce for free during the lock down last year.
Speaking to Goenkarponn he said that when many families in his village were locked up in their house, he gave vegetables that he had grown for commercial gains without charging a single pie.
"My elders thought me not to run after money in all circumstances and many living around me had no money, I don't think I did a great thing as it is humanity to help others in distress" Amolkar informed.
Adding further he said that its painful for him to understand that when people have lost jobs and their livelihood how on earth one has an heart to charge more, infact we should be charging less" he said.
"These local farmers whom we should patronize by buying their stuff are found charging exorbitantly, look at the bananas produced locally they are being sold at 100 rupees a dozen, last year the same was sold at 50 to 60 rupees Anil Bhagat informed.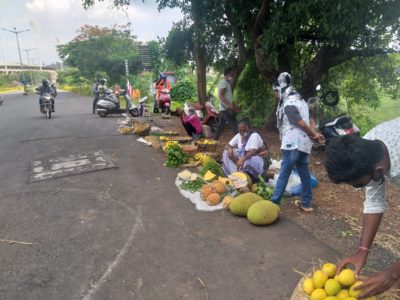 "The bread fruits are sold for 200 for a bigger size, pineapples grown locally go for 100 for a small size, local chillies, brinjals, Jack fruits and mangoes are sold at double rate" like other states the government has to standardize the rates otherwise these is leading to capitalism".
During our childhood the rates of essential food items were announced on radio, the government has to have some sort of control over the rates"
"Government gives subsidies to the farmers ranging from 50 to 90 percent but the farmers are selling their produce at double rates, how these can be explained".
"Poor people in the state are struggling to make ends meet due to the pandemic as jobs and livelihood are lost, how will a family whose income is less than ten thousand survive in these conditions? Asked Bhagat.
Comment