GAKUVED demands controversial structure near Old Goa heritage site be erased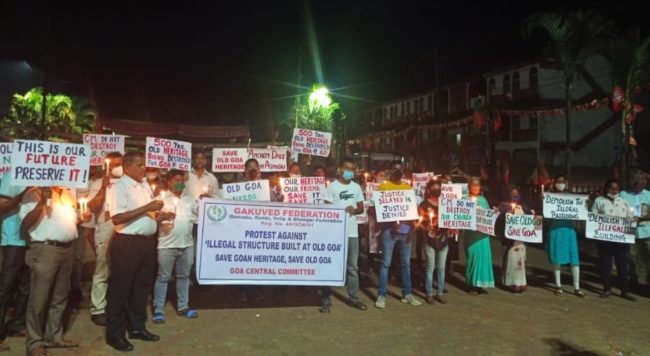 Christanand Pednekar/
Goemkarponn desk
QUEPEM: "Justice delayed is justice denied", said GAKUVED members in Quepem, where they held a peaceful protest against the controversial structure at Old Goa, demanding speedy justice in this matter by the competent authorities.
During a recently held candlelight protest by GAKUVED federation members, a local activist from Quepem Joao Fernandes said that saving Goans should be a main priority of Goans and Saving Goan heritage and to save Old Goa should be a duty of every citizen because such type of situation could occur any time anywhere in Goa whether be it for Hindu, Christian or Muslim, he said.
Further commenting on the issue, Fernandes said that the government trying to delay his decision on demolition, which shows that this government has been totally blinded because for the last 25 days, people have been protesting, doing hunger strikes and making movement in various parts of the state but still, the government is late in its reactions to take action over the controversial structure which will affect the heritage site Fernandes added.
He opined that the government should take this responsibility and react immediately to demolish the controversial structure, but the government is delaying in taking action like they have done during our farmer's protest movement in Delhi where farmers protest continued for one year where the government introduced three bills in parliament which farmers were opposing.
Keeping that movement before us, we feel today's situation in Old Goa should not be like in Delhi, which took one year for the government to decide in favour of the farmers, Fernandes said.
Later, on behalf of Gawada, Kunbi, Velip and Dhangar (GAKUVED) federation, Fernandes demanded that the state government immediately raze the controversial structure near the Old Goa heritage site.
Comment