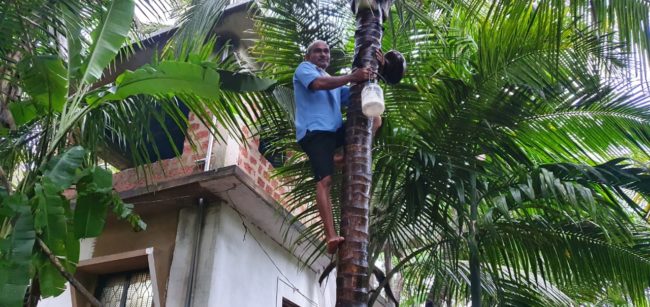 Goemkarponn desk
CANACONA: As the world lies with loss of livelihood all around due to the unprecedented restrictions of the Covid-19 pandemic, Judas Barretto from Galgibagha, after losing his job in Dubai, has not given up nor is he living on his savings but has gone back to the skill which he learnt in his childhood, he is now busy toddy tapping and after a few months of starting his new enterprise is a happy and healthy man once again as money also began to flow.
The thought of changing one's career at the age of 56 will bring shivers down anybody's spine but not for Judas as he, after losing his job in Dubai, made a seamless changeover to the delight of everyone in his house.
Speaking to Goemkarponn, Judas Barretto, who is 56 years old, says that school was too tough for him, and he had to leave the school to assist his parents to make ends meet.

Life changed for him as he got a job in Dubai and was leading a contented life; subsequently he built a good house, got married and has three children, out of whom the youngest is still schooling.
As in the case of most people, life took an unexpected turn, and the company in which he worked for 26 years last year told him to quit as the business was down. There was little hope for recovery as the world was hit by Covid-19 pandemic.
After coming from Dubai, with no other alternative in sight, he weighed his strength and weaknesses, unexpectedly realised that the only way up for him was up the coconut tree and decided to restart the trade of his childhood, toddy tapping.
"I came back from Dubai in September last year; it was not easy to take this decision as age is no longer with me and climbing coconut trees is not child's play, it's a full-time job all seven days a week," he said.
He added, "As my age is no longer my strength, I decided not to wait until my company called me to apply for some other job and quickly settled to my earlier profession. My family supported me and made things easy ,for me during this switch over and I have started reaping the benefits in no time".
"I am no longer interested in working for others now, and as long as I am fit and fine and my body supports me, I will keep on working for myself, that's my goal now", Judas said.
In less than a year, he has obtained the required license and distils Feni. Moreover, he has clients coming to his house in Galgibagha from all over Goa, he says.
His other products are vinegar, and people come from all over the taluka to him for toddy.
Demand is so high that I get advance orders; people come from all over Canacona for toddy, vinegar and feni, and dudsheri goes both in and out of Goa, he proudly informed.
There is no happiness other than this when you work for yourself, added Barretto.
"My current job gives me enough wealth, health and happiness, and that is the most I can ask for", he says.
As a word of advice, he says that no work is less or more worthy, believe that work is worship, do anything you do with love and dedication, and success will come following you.
Comment