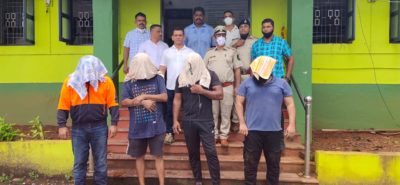 Goemkarponndesk
CALANGUTE: A major gang fight broke out in Calangute late Tuesday night, leaving four seriously injured. Police have arrested four history sheeters in connection with the case.
As per the information provided by the Calangute police, Tarzan Parsekar, Surya Kambli, Imran Bepari, and Suraj Shetye have been arrested. Police have also recovered the sword used for the attack from the possession of accuse Tarzan.
At midnight, police received a written complaint from Swapnil Redkar, working as a private security guard and presently a resident of Torda, Porvorim, alleging that the four accused sprayed pepper spray into his eyes and, further with their common intention, assaulted him on his right leg thigh and right ankle with a chopper thereby causing bleeding injuries.
Accused, Tarzan attacked Redkar with a sword, and Kambli assaulted him with an iron rod.
Police said it was an old rivalry between the two gangs, and the accused had come to take revenge.
As per police, the accused Tarzan is a resident of Nagoa, was placed under arrest after being apprehended at Calangute, whereas the other three accused were located at Pernem in the wee hours of the morning and taken in custody by a Special Police Team of Calangute Police Station headed by PI Nolasco Raposo.
Police said that all four accused persons are history sheeters and have many criminal cases registered against them.
Further investigations are in progress under SDPO Porvorim Gajendra Prabhudessai and SP North Shobbit Saxena, IPS.
It cannot be called Gang war: SP North
North Goa Superintendent Shobit Saxena said that the fight cannot be called a gang war, and only deeper investigation will reveal the reason for such a war.
There was a call that there was some disturbance at some club, and police acted and arrested one person, and the other three were apprehended from Pernem.
"There is zero tolerance to this kind of criminal elements, who are disturbing peace. We have come to understand that the previous criminal cases also> Ther will be strict legal action against all of them," he said.
He said that Imran Bepari is out on bail, and he is involved in some heinous offences and repeat offenders, and there are strict provisions in dealing with repeat offenders. The SP said it would not be right for me to say what to do.
"We have made up our minds and consulted PP and PI, and we will take action so that such things are not tolerated once again," he said.
The SP added, "It would be not correct to call it gang war. They were criminals who had come here and do some kind of fight. Only a deeper investigation will reveal other aspects, but it is not gang war."
Comment