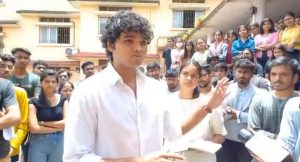 Goemkarponn Desk
PANAJI: Students of Goa College of Architecture Today protested against the non-allotment of Council of Architecture (COA) registration numbers to some students
The students protesting said that it will affect their efforts to practice as architects after they complete the five-year professional program.
Speaking to media, the fifth-year students that this is a significant concern for the students because, at random, more than 50 of the 250 pupils enrolled in the college do not have these numbers.
"This registration number is significant to us since it was given by the Council of Architecture, which oversees architecture in India. We don't know whether our administration has informed the Council that students aren't receiving their registration numbers, which is our problem," one student remarked.
The students said that about 10–20% of the pupils in each class do not have a registration number.
"We will not be unable to work as architects in-spite of having their degrees. Without a COA number, according to a different fifth-year student, they won't be able to submit an application for a practising license," they said.
The fifth-year student, stated, "I was supposed to receive my COA number in 2019 in my first year, but I haven't received it to date. Right now, our situation is critical," he added
Another student complained that the administration was not following up on the matter. Until they receive a guarantee on the matter, the students have chosen not to show up for class.
They asserted that they were not informed of whether their college had brought up the matter with the council.
Comment