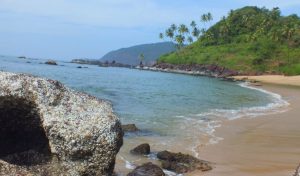 Goemkarponn desk
CANACONA: Strongly condemning the highhandedness of certain Khola residents and the Khola sarpanch and denouncing their attempts to illegally take over tourism trades on Agonda shore, Agonda gram sabha on Sunday passed a unanimous resolution not to entertain outside elements in doing tourism activities in the village at the cost of villagers.
Alleging non-villagers are attempting to capture the tourism trades began with so many efforts by the villagers in Agonda, led by coastal panch Nilesh Pagi; the Agonda fishermen community led a scathing attack in condemning the highhandedness of some of the Fishermen community of Saleri in Khola village for taking out a morcha on Agonda beach/shore on Saturday and directly blaming the fishermen community of Agonda village. 'We strongly condemn such behaviour of Khola Sarpanch and some of the people of Saleri (Khola) for directly blaming the fishermen community of Agonda", said Agonda Panch Nilesh Pagui at the Gram sabha on Sunday.
Earlier, gram sabha members Sanju Anant Pagi and Ramesh Ashok Pagi informed 80% of the tourism trade, such as Tourist Taxis, etc., in Agonda village, besides Fish-selling and other Fishing activities are carried out by Saleri residents of Khola village in Agonda village. 'As for Watersports, the Captain of the Ports/Tourism Department has formed a Boat association to facilitate- water Sports in respective coastal areas. Like Agonda Boat Association, there are Palolem, Talpona, Polem, Patnem, and a Boat association in Khola, and only members registered with these respective associations obtain necessary permits and licences to operate water sports.
Agonda being turtle nesting has only minor watersports and has its own members, but one Boat operator from Saleri (Khola), inspite of informing, stations his boat on Agonda shore and illegally operates water sports in Agonda village.
This was objected to, and even the panchayat issued a warning letter, but the said illegal water sports operator from Saleri responded with an arrogance that he is not concerned for Agonda panchayat.', stated Sanju.
Just to support the same person, including the sarpanch of Khola (Ajay Pagui) and a horde of Pagui Community members led a morcha on the Agonda shore shouting slogans against the fishermen community of Agonda, also made a video viral explicitly blaming the Agonda Fishermen community for the fiasco. 80% of the tourism trade, such as taxis, rent of bikes, etc. are, being done by people of Saleri on Agonda shore; not only that, our village river mouth is used by Saleri fishermen, and their fisherwomen are selling fish occupying the Agonda area. We demand a resolution in this gram sabha not to allow outside people doing businesses in Agonda village at the cost of our villagers, said Ramesh Pagi.
Blaming Khola Sarpanch Ajay Pagui, Panch Nilesh Pagi called for the stoppage of all the tourism trades conducted by outside elements in Agonda. Pagi mentioned panchayat body has already taken a stand that no outsiders should be allowed to operate tourism activities at the cost of villagers in the village of Agonda.
'Traditional fishermen of Agonda have worked hard to begin watersports and other tourism trades, and with all the hard work and sacrifices, now these outsiders are trying to capture our businesses. Agondkars never stopped others from doing tourism activities in Agonda, but since we were allowed to put a finger, now these elements want to wholly and that too illegally. Agonda fishermen never blocked them as they allege; we strongly condemn this behaviour," informed panch Nilesh Pagi.
The Gramsabha agreed to the demands, according to a resolution passed.
Residents (mostly consistingFishermen community) of Saleri, a neighbouring ward of Khola panchayat, led by sarpanch Ajay Pagui, a strong crowd marched on the Agonda beach, shouting slogans against the fishermen community of Agonda, and later made a video criticizing and blaming Agonda fishermen alleging the Agonda fishermen community do allow their counterparts from Khola to earn their livelihood in Agonda village.
Comment