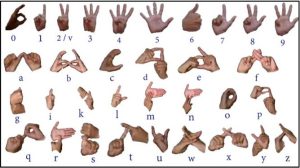 Goemkarponn desk
Panaji: The Office of the State Commissioner for Persons with Disabilities, Government of Goa, has commended the Goa Board of Secondary and Higher Secondary Education for its significant step towards promoting inclusivity and sensitising school children.
The introduction of Indian Sign Language (ISL) as a seventh optional subject in high schools across the state aims to instil empathy, understanding, and eliminate communication barriers among students.
State Commissioner for Persons with Disabilities, .Guruprasad Pawaskar said, "Introducing Indian Sign Language as the 7th language in Goan schools is a bridge to a more inclusive future, where communication knows no bounds, and the beauty of diversity flourishes in every gesture. This not only empowers the deaf and hard-of-hearing community but also fosters empathy, breaking down barriers, and enhancing communication skills for all, ultimately nurturing a more harmonious and understanding society."
With the academic year 2024-25 in sight, more than 30 regular schools have already committed to adopting ISL as a subject. And to ensure the successful implementation of this initiative, fifty teachers recently attended an orientation programme on ISL organised by the Goa Association for the Deaf.
The programme, conducted by certified deaf ISL instructors Rahul Kunkolienkar and Sujata Passi, certified ISL interpreters Josefina Fernandes and Muskan Shaikh, and deaf experts Prasad Joshi and Sharwari Panshiker, provided valuable expertise and guidance for the development of the ISL curriculum.
The Chairman of the Goa Board, Bhagirath Shetye, has expressed enthusiasm for the positive response from schools and stressed the significance of integrating sign language into the curriculum. The aim he said is to ensure that at least one teacher in each school is proficient in ISL, enabling its propagation in other schools within super-school complexes and group schools.
Appreciating the efforts of the Goa Board, Gaurish Malgaonkar, President of Goa Association of the Deaf stated "Introduction of ISL in Schools will promote Quality education for Deaf and facilitate learning and communication in schools". While Prasad Joshi, General Secretary, Goa Association of the Deaf said that "It is a great initiative taken by the Goa Board and this will definitely ensure accessible and equitable learning opportunities for the Deaf and boost inclusiveness among the students".
The syllabus for ISL will be finalised by January 2024, and it will be introduced as a seventh optional subject in Class IX from the academic year 2024-25, followed by its introduction in Class X.
Comment