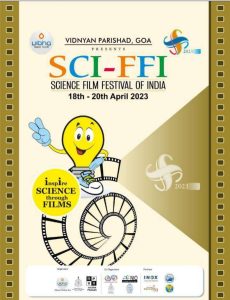 Goemkarponn desk
PANAJI: The eighth edition of the Science Film Festival of India begins today (18 April 2023) at the Entertainment Society of Goa. Chief Minister Dr Pramod Sawant will inaugurate the festival, with National Vice President of Vidnyan Bharati Dr Satish Shenoy in attendance as guest of honour.
The festival is being held from 18th to 20th April by Vidnyan Parishad, Goa, in association with the Department of Science and Technology, Govt. of Goa, Vigyan Prasar, (DST, Govt. of India), Goa University, National Institute of Oceanography, National Council for Polar and Ocean Research, Central Coastal Agriculture Research Institute and Goa Science Centre.
The three-day festival will feature Science Film Screenings, Science exhibitions, Science Film making workshops for teachers, Coding and Robotics workshop and competition for students and Interactions with eminent Scientists.
Suhas Godse, President of Vidnyan Parishad, Goa, announced that they will host an open show for the general public in which the Marathi film 'Take Care Good Night', based on Cybercrime, will be screened at Inox Screen 1 on 19 April at 6 PM.
Highlights of the 8th SCI-FFI
1) Students' Science Village – This event is organised to develop a keen interest in science in students, which includes hands-on science activities, demonstrations, a visit to Solid Waste Treatment Plant and ICAR, Old Goa and film screenings. This has been specifically created for students who live in rural parts of the State. 180 students across State will take part in this.
2) Workshop on Indian Knowledge System – A special session is being organised on topics such as Indian Grand Narrative, Understanding Natural Strengths & Talent, Relevance of Dharampal's work – The beautiful tree in modern times and the Concept of time: according to Hindu scriptures.
3) Reel Making Workshop – Social media is becoming a useful tool for demystifying non-scientific phenomena. According to studies, sharing scientific information on social media can alter how the general public views science. The goal of this session is to show students how social media can be utilised to advance science.
Films to be screened at the festival
1) AI
2) Take Care Good Night
3) Attack
4) Avatar – 2
5) Keedam
6) Contact
Comment