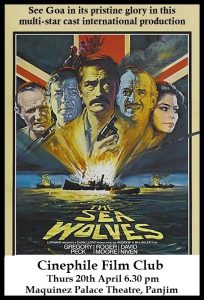 Goemkrponn desk
PANAII: This Thursday 20th April at 6.30 pm, ESG's Cinephile Film Club will host the screening of The Sea Wolves, an international production starring Gregory Peck. David Niven and Roger Moore, that was shot extensively in Goa in the late 70s.
Film: The Sea Wolves (1980)
Directed by: Andrew V. McLaglen
Duration: 2 hrs
Based on the book 'Boarding Party' by James Leasor, this WWII saga is a partly fictionalized account of a true story. During the war in 1943. a German ship was anchored in the then Portuguese territory of Goa. The secret radio on the ship was transmitting information about the Allies and David Niven, Roger Moore and Gregory Peck play British officers who undertake the mission of destroying the ship.
The film was shot on location in various parts of Goa with Mario Miranda and journalist Mario Cabral E Sa playing a part in the production. The screening is a unique opportunity to watch Goa of the 70s on the big screen.
The annual membership for the film club is now open, you can visit www.esg.co.in and register online.
Comment