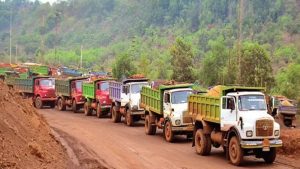 Goemkarponn desk
PANAJI: The Goa Foundation said it is seriously concerned about the opaque manner in which the procedures for the restart of mining are taking place.
The Goa Foundation said the Supreme Court judgment in WP 435 of 2012 (Goa Foundation I) directed "the State Government "may grant mining leases of iron ore and other ores in Goa in accordance with its policy decision and in accordance with MMDR Act and the Rules made thereunder in consonance with the constitutional provisions".
"The Goa Government appears to have forgotten that it has withdrawn the Grant of Mining Leases Policy by a gazette notification in 2016," it stated.
It stated that, as of today, there is no policy in the public domain. Nor is any policy discernable – while the Goa Mineral Development Corporation has been set up, the e-auction of old mining leases has also commenced. And there has been no public consultation nor publication of "all relevant facts while formulating important policies or announcing the decisions which affect public" as required under the RTI Act 2005.
The Goa Foundation has written several letters to the government but has not received any response.
"We are therefore releasing these letters (dated 1-Jul-2022, 9-Aug-2022 and 16-Oct-2022) to the public with the intention of starting a discussion on how mining should restart in lieu of a consultation by the state government," it said.
It stated that no mining should restart without total and complete transparency. Besides the one-page notice of auction (for 4 mining blocks) and tender documents, details of bidders are not provided.
"All bidders must fulfil the fit and proper person test. Public needs to know whether the bidders have been involved in illegal mining in the past and whether they are to be entrusted with public resources, which in the present instance belong to the state's citizens," it said.
Goa Foundation says the Department should change its perception that it is the owner of the ore and can dispense with these resources as it pleases, without public involvement.
Comment