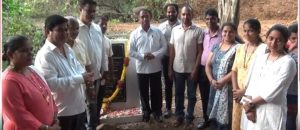 Goemkarponn desk
CANACONA: Stating in the coming monsoon, people in Goa will get Free Cashew-Sapplings any where and everywhere; WRD Minister Subhash Shirodkar said the government is aiming to bring 3000 new farmings in the agriculture sector.
Shirodkar was speaking after laying the foundation stone for 49 lakhs worth of Bhandara at Shiroti in Khola village in the presence of Quepem MLA Altone D'Costa and ex-Dy.CM and BJP Vice-President Chandrakant (Babu) Kavlekar on Wednesday.
Speaking further, Kavlekar reiterates adding more than 100 Bhandaras in the existing lot of 337 Bhandaras so far to further boost agriculture activities in the State.
'Even though Farmers had turned their back towards farming, within a span of next 10-20 years, we have a task to bring all the farmers back into cultivated fields. After the Covid inferno, many people have realised the need to return back to their traditional values by working hard, and there is already a feeling amongst people to resume our ancestral occupation of farming and plantations; but sadly, many times, it so happens that due to non-availability of water for irrigation, people are taking second thought and that's the reason I had said we will build more 100 bandanas. We are facilitating to bring 3000 new farmers into farming and for that, building 100 more Bhandaras alone will not bring more farmers, but we also need to facilitate availability like tractors, seeds, etc.
Quepem MLA Altone D'Costa speaking at the function said' Water harvesting is the backbone of farming, if there is no water, irrigation and Farming are impossible. As promised by the WRD, the Quepem constituency will get 6 new Bhandaras and 20 wells, for which files have already reached to the department. Including beautification of two Springs at Khanaguinim and Betul and Retaining Wall at Nuvem, estimates for five more works are awaiting financial approval in Quepem. People have elected me as MLA and for me Party is not criteria, Development is'.
Ex-Dy.CM and BJP Vice-President Chandrakant (Babu0 Kavlekar) stating WRD ministry plays stellar role in the success of farming/agriculture. Said, "When I was Agriculture minister I tried to work in tandem with WRD ministry, Bhandaras are very much important if Farmers wants to take harvests twice a year. Besides, Bhandaras not only provide water for irrigation, but also helps to increase the groundwater".
Comment