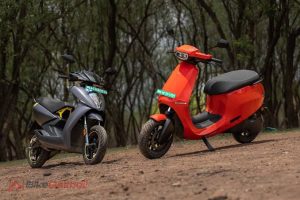 Goemkarponn desk
PANAJI: Goa is one among the four states in the country that has breached the 10 per cent mark in electric two-wheeler (e2W) penetration.
Goa leads the way with 17.20 per cent, albeit with modest numbers, followed by Kerala (13.66 per cent) and Karnataka (12.19 per cent).
Maharashtra, with a penetration of 10.74 per cent, is by far the largest state in the number of e2Ws sold.
India reached an e2W penetration of 5.63 per cent as of May 31, up from 4.05 per cent in 2022, with 392,681 e2Ws sold in the first five months of this year out of the total two-wheeler sales of 6.98 million, the data showed.
This goes well for the government's target of increasing the penetration of e2Ws to 80 per cent by 2030.
Most electric vehicles are in the non-transport category, while the commercial transport category vehicles are less than 100 so far, which includes 51 KTC electric buses.
There has been a steady rise in electric vehicles in the last two years.
In 2020, a total of 42,427 vehicles were registered in the State, of which only 80 vehicles were electric vehicles (0.1 per cent).
The next year, as many as 51,000 vehicles were registered in the State and 1,094 of them were electric vehicles (2.1 per cent).
The Department of New & Renewable Energy, Government of Goa, had discontinued the State subsidy for electric vehicles (EVs), including electric bikes and e-scooters, along with electric three-wheelers from July 31.
As a result, Goa has become the first State in the country to discontinue subsidies for EVs.
Comment