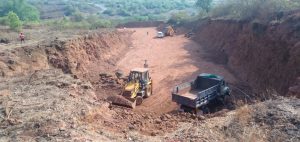 A joint team of the flying squad and Ponda police seized a huge quantity of explosives.
The incident came to light after vibrations at Sun Temple with gelatin blast for hill cutting.
Goemkarponn desk
PONDA: The Joint team of Bomb disposal team, along with the dog squad and flying squad from South Goa Collectorate and Ponda, seized a huge quantity of 672 stocks of gelatin stock explosives besides trucks, JCBs with breakers and other explosive material, including ammonia powder on Sunday morning to late night after reports of Massive Hill Cutting Using Gelatin blast at Wadi Talavalim.
The incident came to light after Sun Temple at the foothills started shaking with gelatin blast for hill cutting, following which a team of Revolutionary Goans (RG), Talavalim and Borim villagers rushed to the nearby hill-cutting site.
They saw that the gelatin blast had caused major hill destruction, with Rocky terrain leading to major environmental destruction.
Sources said one Sarvesh Gaonkar was involved in hill cutting in communidade land.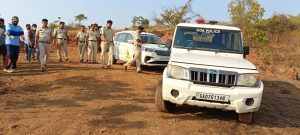 Earlier in the morning, 26 explosive gelatin sticks, wires, three livers, three JCBS and one truck were attached by the Flying squad and Police team.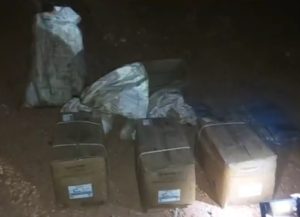 However, as the bomb disposal team was pressed into service at night, a massive quantity of gelatin stock was found, reaching almost 672 sticks. Four more boxes of gelatins were hidden nearby at night, with each having a hundred rods, said the locals at the spot till late at night. Neither any board nor any permission was obtained, said locals.
According to PSI Aditya Velip, Police are conducting a detailed investigation into the matter.
The locals had complained that for the past two months, the gelatin blast was done by digging holes in the earth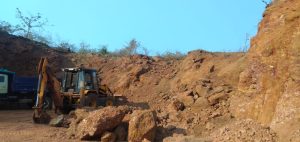 with the help of levers up to 5 meters depth for excavation of hill cutting which was causing jolts to nearby Surya Narayan Temple (Sun Temple) located at foothills of nearby Borim Panchayat.
The movement of locals also posed a risk due to the blast in rocky hills.
Following this, the locals visited the site and complained to the flying squad with the help of RG Members.

RG Member Vishwesh Parab, Premanand Gaude and others condemned the massive destruction caused to the hill.
Almost Eight-meter height, fifty meters long and 15 meters wide area of Rocky hill was destroyed using Gelatin.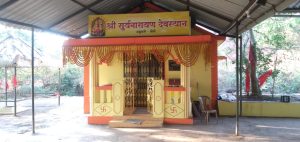 Comment