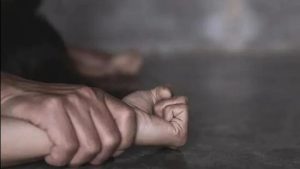 Bus driver rapes 18-year-old student in parked minibus vehicle
Accused Chandrashekar Vasu Lamani was arrested; remanded to 5 days of police custody
Goemkarponn desk
PANAJI: A 18-year-old student was allegedly raped in a minibus by the vehicle's driver on Sunday night. Police have arrested the 35-year-old accused, who is remanded to four days of police custody.
The college girl had arrived with a group of students in Panaji for a Christmas party when the incident took place. Police said the driver is suspected of taking advantage of the survivor, who was allegedly in an inebriated state.
The accused bus driver Chandrashekar Vasu Lamani hails from Zuarinagar, Birla, Verna.
According to the police information, a group of 14 students hired a minibus from Vasco and arrived in Panaji for a Christmas party. The vehicle was parked near a hotel in the capital from where the students headed for a party.
Police said on the way, some of them consumed alcohol and were already inebriated when they reached Panaji. However, the victim started feeling uneasy after having drinks and preferred to rest on the bus; it is when the incident took place.
Around 6 pm, though some students were still seated in the vehicle, the driver, taking advantage of them being inebriated, raped the girl on the last seat of the vehicle, police said.
The driver allegedly raped the girl and further warned her that if she revealed the incident, she would be shamed.
After returning from the party, the group of students noticed that the victim girl was shocked. When one of her girlfriends enquired, the victim revealed the entire incident.
The Women's Police Station received the complaint after 11 pm on Sunday. A team went out in search of the accused and arrested Chandrashekhar.
Nidhin Valsan, Superintendent of police (SP), North Goa said that the victim was a part of a group of 10-14 young persons who had arrived in Goa on holiday.
"All the tourists hired tempo travellers to travel around the coastal state. The driver of the tempo traveller sexually assaulted the victim," he said.
Valsan said that as soon as the police received the complaint, an FIR was lodged under Section 376 of IPC against the accused in the Women's Police Station and Panaji Police Station.
Comment