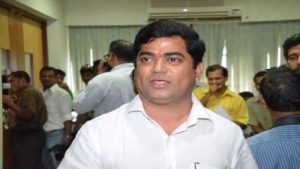 Goemkarponn desk
PANAJI: Bouyed by the state's dominating performance in the ongoing 37th National Games, Goa Sepak Takraw federation is looking to ride on the wave of popularity for the sport and hold the World Cup next year.
President of Goa Sepak Takraw Association and Chairman of Sepak Takraw Federation of India Chandrakant Kavlekar said Goa will host the Sepak Takraw World Cup next year.
"With the requisite infrastructure created as part of the National Games, we are planning to host the Sepak Takraw World Cup in Goa. This has been in the works for some time now. "Four countries were vying, including China and Hong Kong, to host the world cup. But India bagged the rights, and it will be hosted in Goa. I have spoken with the Chief Minister. We held a meeting with him along with the Asian Federation president and sports minister and we have tentatively decided to host the world cup in February next year. A minimum of 20 countries will be participating in the event," he said. Kavlekar said that it is a proud moment for Goa after winning 8 medals in the sport where 26 states had participated. The state players won 6 gold medals, along with 1 silver and bronze each.
"New players are being developed for sports like sepak takraw, along with other traditional sports like kho kho and kabaddi. A lot of youth from rural areas are getting attracted to the sport. It is being taught in schools and that's why its popularity has grown. "In 2010, we had included sepak takraw in the school games. That's why, a lot of new talent is being created. We are working to get the sport to new youth, and also motivate and get them involved," he added.
Comment