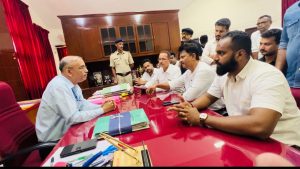 Goemkapronn desk
PANAJI: Goa Congress alleged that Goa University has done injustice on Goans by terminating services of 25 Multy Tasking Staff, who worked for the last ten years and not absorbing them during fresh recruitment.
The Goa Pradesh Congress Committee and Youth Congress leaders on Wednesday gheraoed Goa University's registrar.
Congress leader Elvis Gomes said it is an injustice to Goans as Goa University terminated the contract of the existing 25 MTS. "When these 25 MTS staff were recruited by the following procedure of answering exam and others, how government can terminate them and make them jobless for no fault," Gomes questioned.
He said that all these 25 MTS who appeared for fresh exams for new recruitment failed purposely to provide jobs to near and dear ones of politicians in power. "Maybe they have done this purposely to make money out of new recruitment," he alleged.
Gomes said that all the contractual staff working in various departments of the Goa Government should understand how this BJP government is using them and doing injustice after ten years of service.
"How all of them can fail when they had passed exams initially during their appointment ten years and now have experience of around ten years," he questioned.
He said that they would wait for fifteen days to take these staff back, and if the government fails to give them justice, then they will take the next step.
Pradip Naik said that these 25 MTS were kept in the dark, and nobody among them passed the fresh exam for new recruitment."How can they give new appointments to new staff by doing injustice on these 25 MTS," he said.
Adv. Varadh Mardolkar said that government has. Done injustice on these 25 MTS, some of who are now completing the age limit and in future, they will not get a chance to apply for government posts.
Janardhan Bhandari, Naushad Choudhary, Chandan Mandrekar, Saeesh Aroskar, Vivek D'silva, Himanshu Tivrekar, Yash Kochrekar, Mukhtar Ahmed, Aniket Kavlekar, Pranav Parab, Tejas Divkar and Vyas Prabhu Chodnekar were present.
Comment