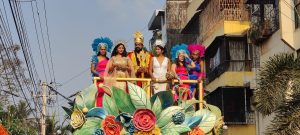 Goemkapronn desk
VASCO: Vasco Carnival float parade witnessed a commotion over the Carnival Queen before the Float parade began on Monday evening.
While the Vasco Carnival Committee had finalised Eva Fernandes as the Vasco queen, another lady Adv Leona Barretto from Curtorim, boarded the Carnival Vehicle along with King Momo while claiming to be the Carnival Queen
The move did not go well with the Vasco Carnival Committee who asked Adv Leona Barretto to step down immediately, stating that the Vasco Carnival Committee had already finalised Eva Fernandes as the Queen and that she had already arrived at the location.
After an exchange of words, it was finally decided that Eva Fernandes would be the Vasco Carnival Queen while Adv Leona Barretto would be allowed to remain on the vehicle alongside King Momo, raising several questions in the minds of revellers whether Vasco Carnival had a King Momo with two queens on either side.
Speaking to the media, a member of the Vasco carnival committee, on condition of anonymity, said that Queen had to be from Vasco
"The Queen is coming from Vasco, and the Queen is not selected from the Tourism department. It is a procedure, and after inviting applications, King Momo is selected by the Tourism department, and this is wrong that Adv Leona Barretto is claiming to be the Queen. We have no issues, nor are we disputing with the King, but we are changing the Queen. We have been giving our own Queen in Vasco for the last 25 years, and this is not the first time, and while King Momo wanted to continue with the same Queen, we have refused to allow it. We have finally got our Vasco queen on the vehicle," said the member.
Another member Liby Mendonca said that Carnival was a festival of joy, and they did not want to have any disputes bringing the festival a wrong name.
"The festival of Carnival itself means that people live in unity, and we cannot afford to have issues because the whole point in the celebration of Joy, fun and happiness will fail. We have therefore decided that no one should be left unhappy and hurt, and finally, both the women will move on the King Momo float even though Our candidate Eva Fernandes will be the Vasco Carnival Queen. It is just a misunderstanding; there is no confusion at all, and we are all happy and united. The issues have been resolved, and we are all going to spread a message of unity from this parade," said Mendoca.
Meanwhile, in a press release, Adv Leona Barretto said that Carnival is a festive season before the liturgical season of Lent in Goa and has been celebrated for the past 58 years.
"While we Eat, Drink and make Merry, this Carnival is celebrated in the true spirit of Geonkarpon. Let's not forget to remember our Father of Goan Nationalism Dr Tristao de Braganza Cunha, and all the freedom fighters, Activists, and eminent politicians who fought to protect Goa's identity.
It's time for all of us to unite for the same Goa which our forefathers fought for. Let's protect and join hands whenever Goa's identity is attacked, be it the Mhadei river, double tracking, Coal pollution, expansion plans, or any other issues where our environment and Culture are likely to erode. Let's join hands for a better future," said Baretto.
Comment