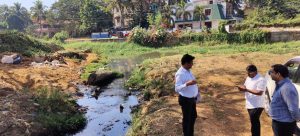 Claims of Geobag technology
• Will make Sewage Treatment Plan (STP) redundant
• To be cheaper than STP
• Uses a 30 metre geo bag tube which can inflate upto 2 metres after trapping the sediments
• Pilot project cost to be 5-6lakh rupees which are far less than building an STP
• Will initially be implemented on a 'no cure, no pay' basis
Goemkarponn desk
PANAJI: Water Resources Department (WRD) has decided to introduce a Geobag tube technology to reduce the Sal water pollution by initially plugging in one of the sources, Khareband nullah, which discharges wastewater into river Sal.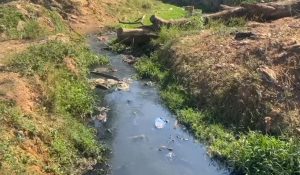 The team of WRD officials headed by WRD Executive Engineer Ankush Gaonkar on Wednesday jointly inspected the Khareband nullah along with Benaulim MLA Venzy Viegas, who had called upon a consultant from Delhi to give expert advice on curbing the Sal river water pollution.
Explaining the Geobag technology of trapping sewage, Veigas said a 30-metre Geobag tube can inflate up to 2 metres to trap the sediments and output the crystal clear water. Considering six critical sources of waste discharge, the entire city will hardly require two Geobags per source.
He said that the use of this technology would save crores of rupees spent for building a Sewage Treatment Plant."
"Geotag technology will, at max, require a storage tank and pumping system for its operation", he added.
WRD EE Gaonkar said the pilot project of using a Geotube will initially experiment at Khareband nullah, followed by the remaining locations depending on the results they receive at an initially experimented site.
Adding to this, Viegas said they have identified six major sources viz Khareband, South Goa District Hospital (SGDH), ring road, Comba, near Vidya Vikas and Saipem lake responsible for contamination of sal river water. "WRD has agreed to take up a pilot project. The proposal, which has been confirmed by the WRD Minister Subhash Shirodkar, has already been handed over to the Chief Secretary. We are expecting the CE will sign, approve and issue the work order at the earliest so that the actual work can be started without wasting much time", he added.
Elucidating about no cure no pay policy, Veigas said, "the policy is such that the government will not have to pay even a penny if the condition is not satisfied" The condition is: one minimal liquid discharge (MLD) water entering into the Geobag must output crystal clear water having a Biochemical Oxygen Demand (BOD) of less than 10″.
Comment